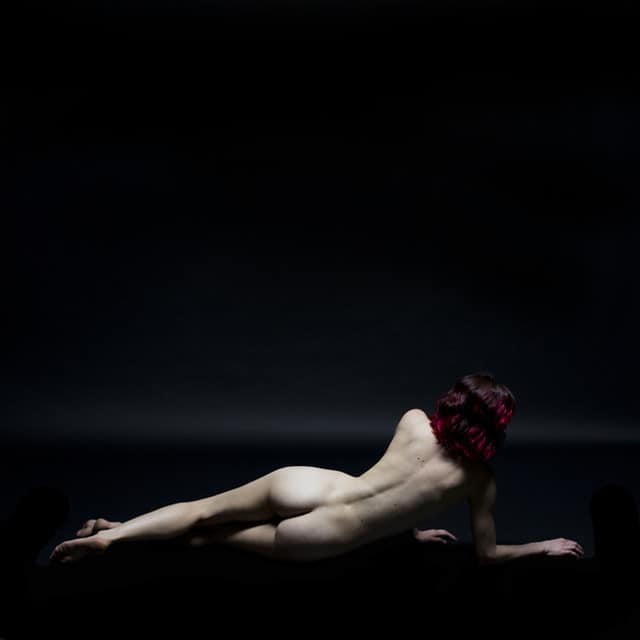 If you're not already familiar with them, Ejecta is the project of vocalist/songwriter Leanne Macomber (Neon Indian) and producer/multi-instrumentalist Joel Ford (Ford & Lopatin). It's also a character the duo created as inspiration for the project. In volcanology, ejecta refers to the "the sediment which settles to the ocean floor after an eruption or seismic shift" – a term which Ford and Macomber also felt described "the mythology" of their character "who finds herself in a constant state of rebirth, like our beautiful planet earth."
The character, portrayed by Macomber in album art and promotional material, is always depicted as nude, aloof, unashamed and a little mysterious. It's unsurprising then that the music on their debut album Dominae (released this past December) demonstrates many of these same qualities. Built from glittery synths and Macomber's breathless coos, it's darkly sexual, compositionally concise, emotionally charged and obsessively rhythmic.
For example, album opener "Mistress" is anchored by a chilly ambiance and glistening synths as Macomber sings with a deceptively affectless croon, "I want my life back or I want to die. Oh, I know she hurt you, but so could I." Supported by a kinetic, blinking electronic rhythm, it's surprisingly upbeat and even a little sexy. But beneath all the twinkling lights and bright ambiance, there's an unmistakable dark undercurrent.
Similarly, with it's submissive and vulnerable demeanor, early album single "It's Only Love" is equal parts sexy and troubling. The 80's synth-pop inspired melody is filled out with thin, panning synths and a dribbling beat as Macomber brightly sings, "Do what you want with me. It's only love. I gave you all that you want."
Sexy and vulnerable but simultaneously dangerous and obsessive, it's a balance the duo strike time and again throughout the album. For example, "Silver" is a sleek and laser-bright jam about betrayal and disillusionment following a failed relationship. Likewise, album closer "Tempest" is also a song about the pain of a lost relationship – belied by a simmering melody that constantly threatens to take flight into spiraling, soaring exit.
Quite honestly, we've been obsessed with the album for the past couple of weeks. We're pairing it with Kasey's recipe for Fish Tacos with Pomegranate Salsa. Like the album, it's a clean, contemporary dish that sparkles (thanks to those gem like pomegranate seeds).
You can score Dominae in the format of your choice from Amazon.