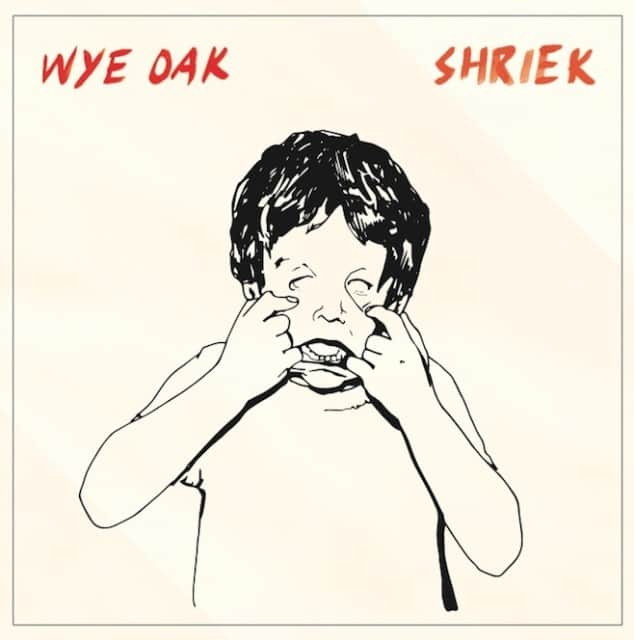 "This morning I woke up on the floor / thinking I had never dreamed before," sings Wye Oak vocalist Jenn Wasner on "Before," the opening track to the Baltimore-based duo's newest release Shriek.
The lyrics are an indication of just how uncertain and lost Wasner was feeling when she set to the work of writing material for the album. She had been writing songs on the guitar since she was 12 years old, but after extensive touring in support of the band's album Civilian, Wasner told SPIN that she found it "really hard to get anything out of it from a writing perspective."
As it turns out, all Wasner needed was to start dreaming. Specifically, she needed to reimagine what Wye Oak was and what they could be. From their inception, Wye Oak had been pegged as an indie folk duo. But could they be more than that? If they were going to find a way forward, they'd have to find out.
On their past releases Wasner played guitar and sang while her partner Andy Stack played drums, synths, and other percussion. For Shriek, Wasner ditched her guitar completely in favor of a bass.
Their new direction meant a significant change in the way the duo approached their songwriting. As Wasner explained, "it basically inverts what we were responsible for. Andy was playing droney bass lines on keyboard. Now he's responsible for the more upper register stuff that guitar would normally handle, while I'm playing bass lines on a bass guitar."
Fortunately, the new direction suits the duo very well. In fact, rhythmic and driving, Shriek may be the duo's best album to date. The new dynamics bring Wasner's vocals into sharper focus and places an increased emphasis on rhythmic progression.
The difference is demonstrated incredibly well on "Glory" where Stack's atmospheric synths and textured percussion flesh out a kinetic (and almost funky) bass rhythm. Without the snarl of an electric guitar, Wasner's vocals naturally sit more front and center. The result has been a more engaging presence for both Wasner and Stack throughout the album.
In fact, it's slowly proving to be one of our favorite albums of the year. If you've slept on it so far, we definitely recommend checking it out.
Bright, sweet and pillowy, we're pairing Shriek with Kasey's "Magical" Two Egg Maple-Cherry Pavlova recipe. It's an easy recipe and one that you and your dinner guests will almost certainly bliss out too. I promise you, Shriek will set the perfect mood.
Afterwards, you can pick up a copy of Shriek from Insound. If you're in the Bay Area you can catch them on July 12th at Phono Del Sol along with Thao & The Get Down Stay Down, A Million Billion Dying Suns, White Fence, Yalls, Blackbird Blackbird, and more.