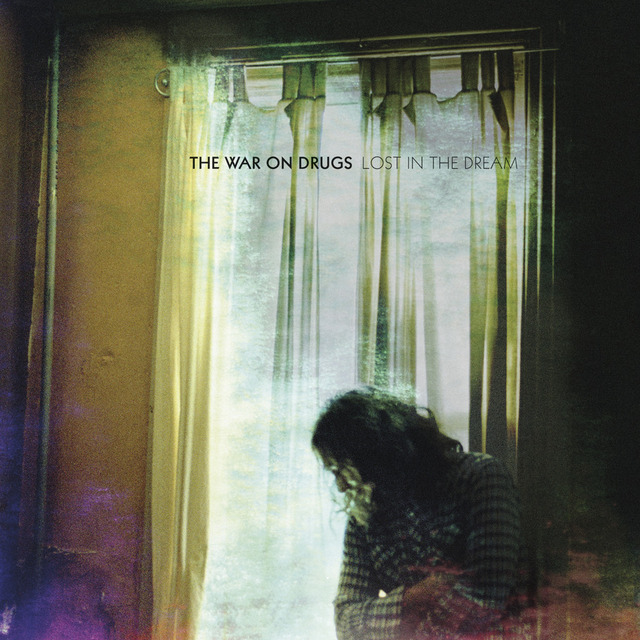 The War On Drugs, the Philadelphia-led project of Adam Granduciel, are one of those bands that seem to get better with each successive album. Their latest album, Lost In The Dream, is more focused, more direct, and more sure-footed than it's predecessors. Indeed, Lost In The Dream is Granduciel's finest work yet.
Like the band's prior albums, Lost In The Dream could be roughly described as sounding a little bit like some genius mashed up Dire Straits with Spaceman 3 and threw in some fiery Springsteen guitar licks for good measure. There's a deep river of classic 70's American folk-rock running wild through Granduciel's songwriting, but it's balanced by hazy synths, dream-like vibes and wide-open, wanderlust-inspiring compositions. Put another way, this album is perfect for a long and winding road trip straight through the heart of the country. Throw back the top and let the wind rip through your hair.
The opening track "Under The Pressure" sparkles with an almost-illusory glimmer as it builds slow and steady through twinkling piano and searing guitar riffs to accompany Granduciel's reedy, half-murmured vocals. As it unfurls, it moves purposefully along a catchy melody and driving groove as Granduciel sings, "laying on a hill, dancin' in the rain, hidin' in the back, loosening my grip . . . just trying not to crack, under the pressure." It's tense and springy right up until the moment the melody abruptly descends into a vast, wide-open landscape. Despite clocking in at nearly nine minutes, it never overstays its welcome.
It's followed up with the propulsive, tambourine-tinged rhythm and circular guitar riffs of the lively highway-bred anthem "Red Eyes." Here Granduciel is more energetically defiant that ever, whooping and snarling his way down the fastlane knowing damn well he'll never out run his ghosts but daring them to try to keep up nonetheless.
For the most part, things mellow out after that, but it's also in the LP's middle half where Granduciel's maturity as a songwriter is most apparent. "Suffering" is sincere and evocative; "Ocean In Between The Waves" is a snarling psychedelic rocker; "Disappearing" is a hazy, synth-snug jam; "Eyes To The Wind" is a classic piano-led folk-rocker perfectly tailored for outdoor music festivals; and the darkly-lit "Burning" is almost a guarantee to become a fan favorite for years to come.
As a result, Lost In The Dream proves to be an incredibly deep album that rewards repeated plays. After all, throughout the record the songwriting and compositions are both thoughtful, patient, and inspired. Similarly, the lyrics are accessible and relatively direct. In fact, it's probably no coincidence that it's not only Granduciel's most personal album to date, but it's also his best.
Subtle, thoughtful and savory, the album pairs well with Kasey's recipe for Rosemary and Toasted Caraway Shortbread. Both are mature, bright and ultimately upbeat without being sweet or uptight. You can score Lost In The Dream on 2xLP vinyl from Insound.