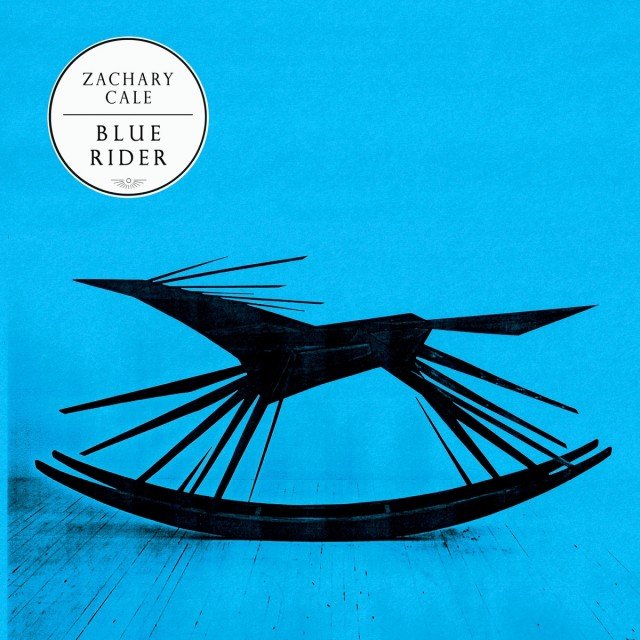 Let's be honest, there are a LOT of derivative singer-songwriters out there that compose boring, insipid 60's folk-inspired riffs on worn out acoustic guitars. Indeed, for many music fans the label "singer-songwriter" alone is a cue to prep a snarky, derisive sneer. Nonetheless, despite a glut of less talented songwriters, artists like Justin Vernon, Sam Beam, or Kurt Vile continue to emerge from the rabble and prove that a talented artist still doesn't need much more than an engaging voice and a guitar to shine. Spend a little time with Zachary Cale's latest LP Blue Rider on heavy rotation, and it'll become clear that Cale is another rare member of that latter category. Blue Rider is a gorgeous collection of truly nuanced, finger-picked folk ballads built around poetic, thoughtful lyrics and embellished with strategic use of reverb; it's a beautiful and evocative album.
For most of the eight tracks in this collection, Cale creates magic with little outside accompaniment. For example, the meat of the dusty album opener "Unfeeling" is Cale's twinkling, finger-plucked acoustic guitar and carefully-phrased, reedy Southern drawl. Only vocal harmonies are contributed by a guest musician. Indeed, Cale needs little more that his voice and a pair of guitars to paint a vivid picture of baring witness to barely contained rage, "All that rage is creeping up in the top of your throat. You throw some liquor down it before it takes ahold." It's subtle but fully textured.
The track also sheds a light on another aspect of Cale's songwriting. Although many of the songs are winding and desolate in both their ambiance and lyrics, these are not sad and lonely hymns at their heart. Despite the lyrical subject matter of the opener, for example, it's not an angry song. In fact, Cale's message is ultimately patient and tender as he concludes, "I'm on your side and I'll be here when you want to open your eyes."
To be fair, Cale isn't entirely alone on the album as drummer Ryan Johnson contributes essential, light, jazzy percussion on most of the LP – including the album's brightest moments, "Hold Fast" and "Wayward Son." The former is a sparkling, windy ballad featuring Cale's most picturesque lyrics, "day breaks, cock crows, earth quakes, night glows, flowers wilt, love dies, snow melts, sun shines. Oh my, oh my." The latter is the album's most upbeat groove with it's glistening melody and shuffling foundation.
The album is a perfect Musical Pairing for Kasey's recipe for Garlic Cranberry Beans with Roast Chicken. The recipe, like the album, is rustic but unique. It's a classic American-style recipe with a twist from the sansho spice. Japanese sansho, if you're not familiar with it, is peppery, earthy, and lemon-tart. It tingles a bit when you put it on your tongue. That earthy, peppery bitterness is a good compliment for Cale's complex, finger-picked melodies on the beautifully intricate Blue Rider.
Buy a copy of Blue Rider from All Hands Electric. Then head back to the Kitchen to read Kasey's recipe for Garlic Cranberry Beans with Roast Chicken.