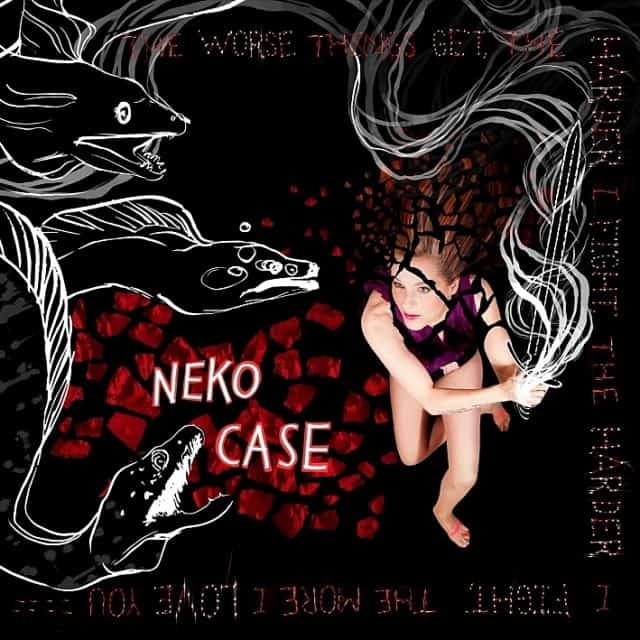 Over the course of a hard earned career, Neko Case has become one of independent music's most ambitious and highly regarded songwriters. She's a fiercely intelligent lyricist and both thoughtful and craftsmanlike as a songwriter. And, to top it off, she has a remarkably powerful voice that's comparable to beautiful, rootsy vocalists like Patsy Cline and Wanda Jackson. The Worse Things Get, The Harder I Fight, The Harder I Fight, The More I Love You, is her sixth full-length album and her best yet. It's a showcase for Case's range both emotionally and sonically. Indeed, on an album that includes punk-inspired rockers and a cappella ballads, Case is consistently evocative, alternately defiant, compassionate, proud, plaintive, playful, and loving.
It came together during an exceptionally emotional time in the songwriter's life when she had to cope with depression following the loss of her grandmother and both parents. Indeed, although Case apparently wasn't particularly close to her parents, the album nonetheless suggests that their deaths meant having to grapple with a host of unresolved issues. For example, the track "Nearly Midnight, Honolulu," is an a cappella ballad in which Case empathetically recounts witnessing a mother tell her child to, "Get the f*** away from me. / Why don't you ever shut up?" It's an incredibly upsetting scene, but Case has revealed in interviews that it was more than that for her. It was a moment that recalled her own childhood.
Indeed, on one level, it's Case's most personal album to date. She revealed in an interview with NPR that she'd had to "tweak" the lyrics to intentionally make them more cryptic and less confessional in nature (also noting that in her lyrics she prefers to "make up stories about things"). For example, she's declined to explain the catchy but enigmatic chorus ("you never held it at the right angle") on the remarkable single "Night Still Comes." Still, she left more than enough of herself in each song to make each track personal and relatable.
In fact, it's an exceptionally solid album. Even on the deluxe edition (which includes three bonus tracks) there isn't a throw-away to be found. The triumphant album closer "Ragtime" features arguably both her loveliest vocal performance on the album and her most affirming lyrics when she sings, "I reveal myself invincible soon" and "I am one and the same / I am useful and strange." Meanwhile, the fiery, gender-bending track "Man" is a defiant punk-tinged power rocker offering searing M. Ward guitar riffs to accompany Case as she bitingly declares, "If I'm dip shit drunk on the pink perfume / then I am the man on the f***ing moon / Cause you didn't know what a man was / until I showed you."
Case notoriously eschews digital tweaking of her recordings. She's an advocate for the value of practicing a note until you nail it (as opposed to smoothing over rough edges with autotune). She's also an American of Ukrainian ancestry. Thus, I think Kasey's recipe for Raw, Chilled Buckwheat Porridge is a fitting pairing. The recipe is lush (like Case's vocals), raw (like her approach to songwriting), and prepared from a popular Russian/Ukrainian farmed grain (the buckwheat groat). Any questions?
Buy the 2xLP deluxe edition of the record from Insound. Then head back to the Kitchen to read Kasey's recipe for Raw, Chilled Buckwheat Porridge.