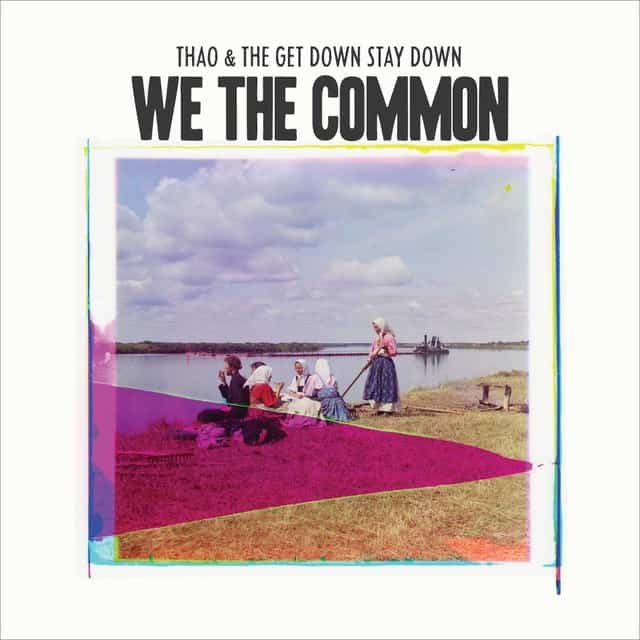 Thao Nguyen of Thao & The Get Down Stay Down is one of those songwriters whose lyrics are widely described by music critics as "honest". Of course, that's just a short way of saying that her lyrics are charmingly self-aware and disarmingly revealing. Whether she's musing about sexual power dynamics, unhappy relationships, or grappling with emotional insecurities, it's always been clear that she was sharing from her own experiences.
As the title implies, on We The Common Nguyen deliberately shifts the lens away from herself (for the most part anyways) instead moving her focus towards broader storytelling inspired by her experiences working with the California Coalition for Women Prisoners and with Occupy Oakland. But that doesn't mean that We The Common is any less "honest" than her band's previous albums. Indeed, in a recent interview Nguyen explained that "[We The Common] is me as an offering, trying to be part of the world, trying to understand how to be better." The album's title track, for instance, is written about a woman Nguyen met while working with the California state penitentiary. The track "City" is about her move to San Francisco. And, according to Nguyen, much of the album is thematically about "the collective energy and harvesting it."
There's no question that We The Common demonstrates Nguyen's growth as a songwriter. It's easily her best album to date. But the biggest leap here isn't in her lyrics or her choice to focus on issues outside her bedroom, but rather in the scope of the music itself. Whereas her past albums were easy to categorize as "indie folk," We The Common isn't nearly as easy to pin down. Album opener "We The Common (For Valerie Bolden)" opens with no more than a sparse banjo melody and Nguyen's vocals, but eventually zooms out to a wide-screen experience with clattering, woodsy percussion and a boisterous groove. The track "City" is pure rock n' roll with distorted guitar riffs, propulsive rat-a-tat percussion, and an anthem-friendly chant: "rest and be strong / wash and be clean / start a new year whenever you need." Meanwhile, the jazzy "The Feeling Kind" boasts lurching, bluesy New Orleans-styled swaggering brass horns. In all, on this latest offering, The Get Down Stay Down stagger playfully between honkey tonk, indie folk, rock n' roll, jazz, and more.
I'm pairing it with Kasey Kasey's recipe for Crispy Broccolini, Chickpea and Ricotta Salad. The salad, like the album, is elegantly rustic and clean. It's a simple recipe that you could easily prepare for an intimate dinner for two or for a communal dinner with a big group of friends. Either way, it's a sure favorite.
Pre-orders of We The Common included an awesome bonus covers 7″ and, surprisingly, Insound still has copies left. Get one while you still can. Then stop by the Kitchen to read Kasey's recipe for Crispy Broccolini, Chickpea and Ricotta Salad.