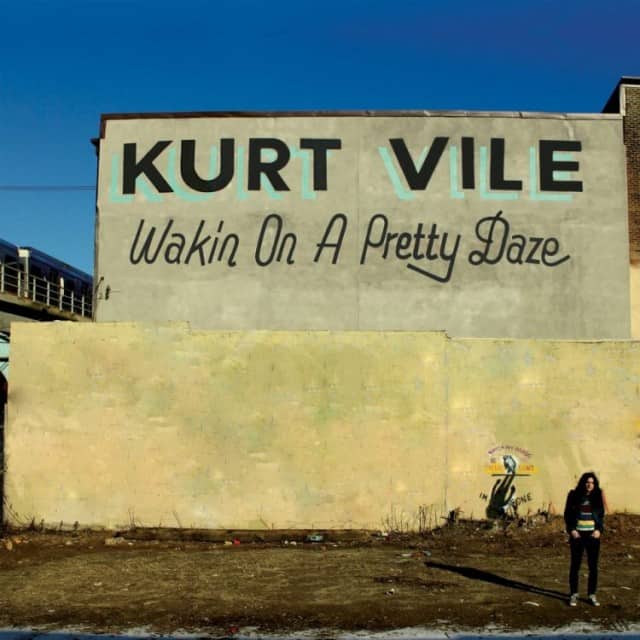 In her post today, Kasey reflects on the thrill of discovering new flavors and new tastes. She notes how these new discoveries kick our brains into high gear, simultaneously creating new impressions and memories while also evoking emotions and memories from our past. The same could be said for a lot of great new music. Kurt Vile's latest album Wakin On A Pretty Daze, for example, is one of those albums that is founded entirely upon recognizable inspirations, yet manages to still sound immediate and fresh.
There's no question that Wakin On A Pretty Daze is a testament to Vile's continued growth as a songwriter. Throughout the album he lets his songwriting truly unfurl with both his longest and most complex songs to date. In fact, over half of the tracks on the album clock in at over 6 minutes. Four of them exceed seven and a half minutes. And the opening track, the second longest track on the album, stretches to nine and a half minutes long. And yet, despite the length of the material, the entire album is elegant and uncluttered. Not a single track on the LP overstays its welcome.
For example, the album opener "Wakin On A Pretty Day" layers sheets of threaded guitar riffs along unique variations of a tidy, sun-soaked chord progression. It's meandering at times, but without ever straying far from where it began. As a result, it remains constantly engaging throughout it's entire run time. In fact, it's a dusty, familiar sounding melody that you can easily get lost in, and, by the time it's over, you'd swear it was only half it's actual length.
Like many of his prior albums, it's easy to identify similarities to artists like Tom Petty and Bob Dylan, but, more than ever before, those similarities feel incredibly superficial. Instead, the nuts and bolts of Wakin On A Pretty Daze feel pulled from incredibly disparate sources. For example, on "KV Crimes" an unusually confident and swaggering Vile is met by a raunchy electric guitar riff that could have been pulled from either Exile On Main Street or Lynyrd Skynyrd (with occasional detours into 80's power ballad territory). Oh, and I'd be remiss if I didn't mention that there's some cow bell thrown in for good measure.
Ultimately, Wakin On A Pretty Daze is KV's most complex and varied, yet melodically straight-forward, release to date. In fact, not only is it his best record yet, but it's also one of the best albums of 2013 so far. Highly recommended.
Head back to the Kitchen to read Kasey's recipe for Radish, Rhubarb, and Strawberry Salad. The limited edition, numbered edition of Wakin On A Pretty Daze is still available from Insound. Get one before they are gone.