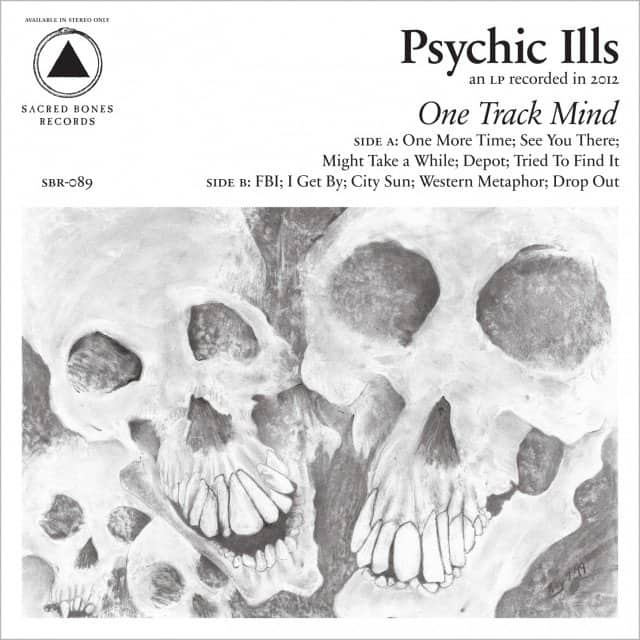 Kasey's featuring a bourbon-filled Muddled Blackberry Mint Julep recipe today in the Kitchen. Just one taste and I pretty much immediately knew I had to pair it with Psychic Ills' latest LP One Track Mind. Partly that's a reflection of the bourbon that builds the backbone of the drink, but it's also because the muddled blackberry and mint make this drink taste perfect for a sweltering Summer day in the South. After all, One Track Mind finds the Ills exploring humid, sun-scorched lands of bubbling psychedelica while retaining just enough crisp, straight-forward songwriting to remain simultaneously refreshing and lucid.
For example, the jangly and clean "One More Time" opens One Track Mind with a straight-forward, upbeat melody so cool it sounds like it's been comfortably left to rest in the shade. Meanwhile, the sizzling, hypnotic groove "See You There" is founded upon torrid, swirling guitar and a rubbery, tense rhythm. It plays out like a long, nearly endless drive with the top down through the heart of the desert during the hottest part of the day. In fact, in terms of sonics, One Track Mind could be compared to a languid, meandering trip through steaming hot terrain with frequent, necessary pit stops to relax in the shade.
Although it's a surprising sonic shift for a band previously known for "electronic-centered home recording experiments" (per their bio), it's also clearly not uncomfortable space for the band. After all, they've sought out collaborations and production for the album by Neil Michael Hagerty of Royal Trux/The Howling Hex and the LP sports album art by former 13th Floor Elevators songwriter and artist Powell St. John. And, why not? Clearly the band wear this brand of dusty, desert psychedelica well. Remarkably, it's the Psychic Ills' 10th anniversary this year and One Track Mind is their fourth proper full length. For my money, it's also their best.
Amazingly there are apparently still copies of the limited edition of 250 hand-numbered vinyl copies in deluxe packaging. Includes a bonus 7-inch, along with hand-screen-printed wrap-around sleeve, wax-sealed sleeve.