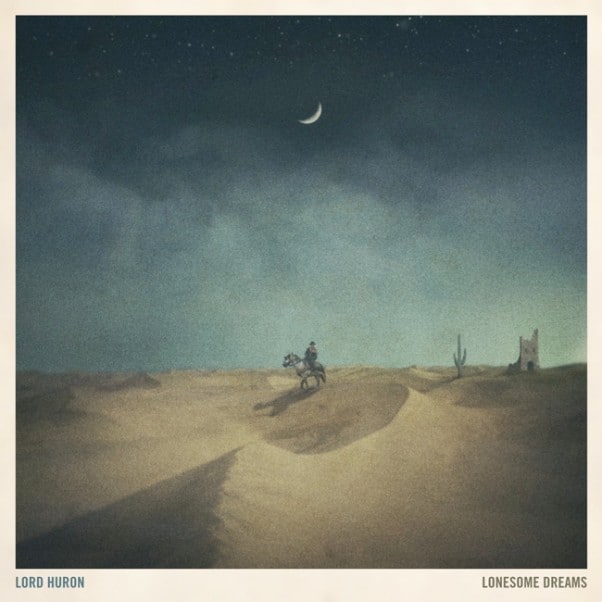 It's easy to forget that Lonesome Dreams is Lord Huron's debut album. After all, the band's birth was back in 2010 when Michigan-born/Los Angeles-based songwriter Ben Schneider wrote and recorded Lord Huron's debut EP, more or less as a solo project. A true band was formed shortly thereafter and a second well-received EP followed later that year. By 2011, based on the success of those EPs, the new band garnered a following and scored sets at several major music festivals. So, at least for me, it's somewhat surprising to be reminded that they have only just recently released their debut.
For the most part, Lonesome Dreams lives up to the promise the band had established on those debut EPs. It's warm, comforting, and imbued with a palatable, well-earned sense of wanderlust. In fact, nearly every piece of the album incorporates the theme of solitary travel. Songs like opener "Ends of the Earth" and the album's title track both, at least on the surface, uneasily trek through the peaks and valleys of solo exploration. If this album doesn't make you want to pack a bag and set off on an adventure, then you're not paying attention.
Lonesome Dreams also features what, for my money, may have been the catchiest single released last year by damn near anybody: "Time To Run." The tune is a jaunty, indie folk jam with irresistibly warm harmonies and a hook that most songwriters would kill for: "I wanted everybody else in the world to know it / I wanted everyone to know you're the girl for me." It'd be easy to imagine the tune soundtracking the climatic scene in nearly every romantic comedy you'll see for the rest of your life. Which is only to say that it's an incredibly catchy and well-written love song. It certainly stands out, in part, because much of the rest of the album eschew's the energy and directness harnessed on "Time To Run" for a more meandering, slow building ambiance that befits the album's solitary travel theme.
My sole complaint with Lonesome Dreams is that, by and large, the songwriting here is less adventurous than on Lord Huron's first two EPs. The compositions demonstrate a slight lack of confidence on Schneider's part. It's easy to imagine him thinking that he wants his debut to sound big, so instead of taking the sorts of compositional risks that he had taken on the Mighty and Into The Sun EPs, Schneider borrows more directly from the work of more established artists like Fleet Foxes and My Morning Jacket because it feels safer. Indeed, after stints performing at those big festivals throughout 2011, it's easy to see the appeal of such an approach. After all, Schneider is more than capable of writing for the main stage, and I'm sure he knows it. While the approach resulted in a pleasant and very enjoyable debut, I think it's safe to say that Lord Huron's magnum opus has yet to arrive.
It's probably obvious, but I selected this as our musical pairing for Kasey's Chicken Meatball Minestrone with Ras El Hanout and Israeli Couscous recipe because they compliment each other so well. After all, both are warm, comforting, and delicious. What's more, both are also crowd-pleasers with wide appeal.
You can score this on vinyl from Insound. Then head to the Kitchen to read Kasey's recipe for Chicken Meatball Minestrone with Ras El Hanout and Israeli Couscous.