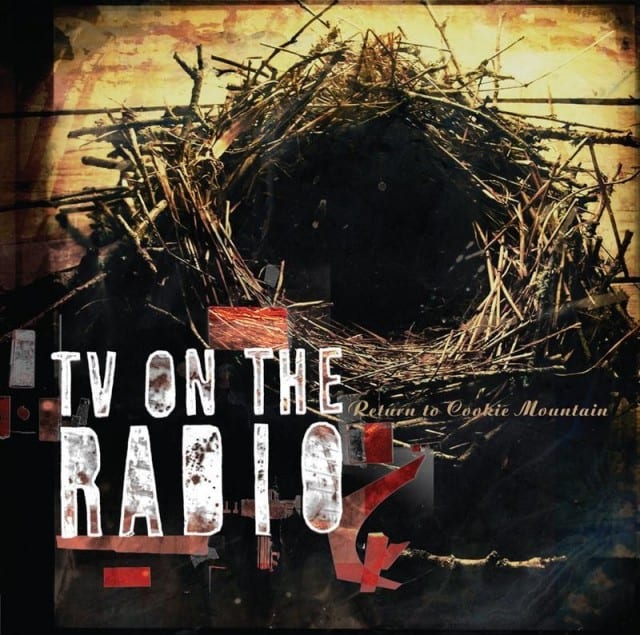 TV on the Radio's 2006 LP Return to Cookie Mountain was the album that, for me, cemented the band's position as one of indie's leading bands. Before it's release they'd already developed a reputation for crafting engaging, albeit occasionally cluttered, rock jams that sounded so packed with ideas and sounds that the tunes were constantly in danger of splitting apart at their seams. On Return to Cookie Mountain the band doesn't walk away from their willingness to experiment. And there are just as many ideas stuffed into Return to Cookie Mountain as there are on (the also excellent) Desperate Youth, Blood Thirsty Babes. However, beginning with Return to Cookie Mountain, the band's songwriting began to sound more intricately composed than ever before.
Opening track "I Was A Lover" is built around noisy and splintered guitars riffs, bubbling IDM-inspired beats, psychedelic sitar notes, and a web of spliced samples as vocalist Tunde Adebimpe sings with a mix of paranoia and resignation: "Now that I've cleaned up, gone legit / I can see clearly: round hole, round whole, square peg don't fit." And while it certainly doesn't sound like a recipe for an easily digestible tune, and despite Adebimpe's proclamations, the band do in fact manage to fit a square peg into a round hole: this is experimental rock music that is very approachable. Indeed, most of the album, like the opener, sits just a little to the left of pop music (smart pop music anyways).
It was also, at least for me, the album that demonstrated that each member of the band was unusually proficient at their respective instruments. The track "Playhouses" is simply owned by the wickedly syncopated rhythms of drummer Jaleel Bunton. Kyp Malone and Dave Sitek's guitar riffs are consistently explosive throughout the album. And even when he's backed by David Bowie (as he is on "Province"), Tunde Adebimpe's vocals are eclipsed by no one. This is the sort of album that could only be recorded by really smart, really creative musicians at the top of their game.
Clearly, the only thing that could make Return to Cookie Mountain better is if there were some actual cookies involved. While I can't speak to Dave Sitek's baking skills, I think Kasey's Ginger Molasses Cookies with Chocolate Chunks will do the trick. These cookies, like the album, are just all sorts of superlatives combined into one highly yummy sweet. And, I'd say they are a suitably surprising combination of ingredients. I'm sure you've had chocolate chunk cookies. And I'm sure you've had ginger cookies. But Ginger Molasses Cookies with Chocolate Chunks!?! That's the Return to Cookie Mountain pairing right there.
TV on the Radio – Wolf Like Me
This is out of print in vinyl, but you can buy in on CD from Insound. Then go read Kasey's recipe for Ginger Molasses Cookies with Chocolate Chunks.