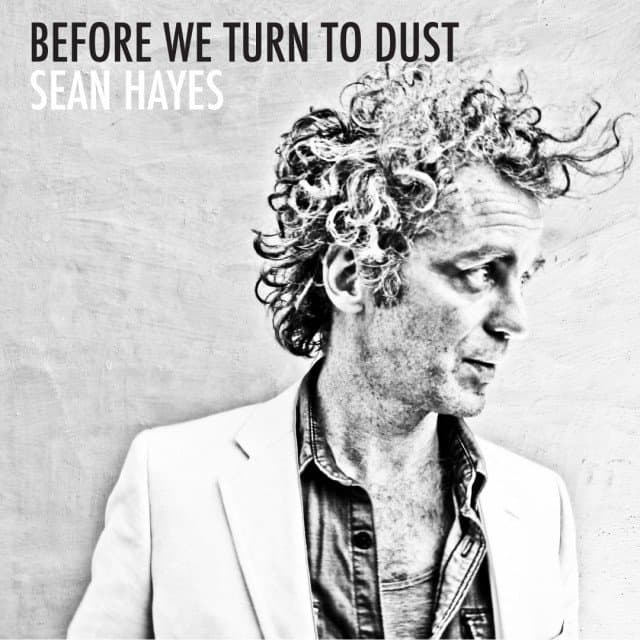 Sean Hayes isn't a new face in the music industry. His latest release, Before We Turn To Dust, will be his sixth full length. Indeed, Hayes has been a beloved staple of the local music scene in San Francisco for many years now. He's worked with a who's who of other local musicians and he's been a highlight for many festival goers at two separate Outside Lands Festivals including the most recent one. And despite having arguably reached veteran status as a musician, it also feels as it Hayes is just getting started. Indeed, Before We Turn To Dust is almost certain to bring Hayes a host of new fans.
Hayes blends smooth r&b melodies with shuffling folk instrumentation supporting his woodsy, vibrato-accented vocals. As you'd imagine from that combination, there is a little sexiness to the grooves, yet there is nothing prurient about Hayes' lyrics. For example, on opening track "Before We Turn To Dust" Hayes crows: "You may spend all of your money before you turn to dust / you'll never spend all your love" and then "My little boy's smilin' / soon he'll be sitting up / holding his own weight / grabbin' for ya."
Indeed, much of Before We Turn To Dust hinges on sentiments of mortality, fatherhood, and love. If that all sounds a little, well, boring… it isn't. Hayes clearly writes personal lyrics inspired from his own life and experiences, and yet they are universal enough to offer broad appeal. For example, the album's second track "Miss Her When I'm Gone" is an ode to the loneliness and struggle of a career spent on the road, away from the people you love, working hard to support those same loved ones. Even if you aren't a touring musician, if you're a working stiff you probably relate to the sense of working hard, sometimes struggling, to support the people you love.
Yet, it should be noted that Before We Turn To Dust isn't all death, fatherhood, and work. The album's third track "Bam Bam" for example features a loose, piano-led groove to accompany Hayes' croon: "Damn, the way you walk that thing / all locked in a pocket make a grown man sing." But, unlike a lot of contemporary r&b, Hayes can be sexy without being lacivious: "I want to do you… right. I want to be with you."
Before We Turn To Dust makes a great soundtrack for the recipe Kasey is featuring in the Kitchen today: Soba Bowls with Tea-Poached Salmon. The recipe is exotic, yet surprisingly straight forward. It's flavorful and unique. And so smooth and crowd pleasing.
Sean Hayes – Miss Her When I'm Gone
Watch Sean's site to pick up a copy of Before We Turn To Dust. It's scheduled for a September 11 release. Then head back to the Kitchen to read Kasey's recipe for Soba Bowls with Tea-Poached Salmon.