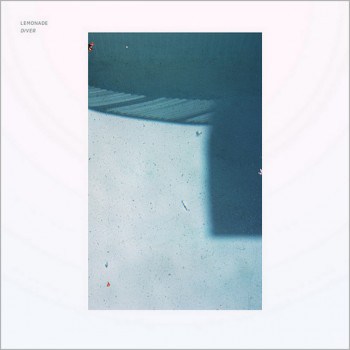 Brooklyn-by-way-of-San Francisco trio Lemonade have already proven themselves adept at both short-order improvisation and eclectic synthesization. Indeed, mere weeks after the trio formed drummer Alex Pasternak was asked if he was in a band and if he wanted to play an upcoming party. His band, Lemonade, had a name but hadn't yet actually written any music or performed live before. He nonetheless agreed to play the party and, alongside vocalist Callan Clendenin and bassist Ben Steidel, the new band quickly set out to write music for the upcoming gig. Their quickly hashed-out grooves were a hit at the party, and so, emboldened by their quick success the trio decided to get serious about their music. Three years later their debut record was being praised far and wide for it's dance-friendly, genre-blending amalgamation of diverse styles including UK garage, synth pop, indie rock, world music melodies, and various forms of dance.
Their sophomore album, Diver, follows in it's predecessor's footsteps. It's glitchy, body-moving, genre-smashing pop music that can alternatively claim lineage to electronica, indie r&b, UK 2-Step garage, house and synth pop. If that sounds disorienting, it's not. They blend together all of their influences so seamlessly that the album retains a wholly cohesive groove throughout. Opener "Infinite Style" booms forth with echoing bass, ratatat percussion and swirling sirens before catching the groove alongside cascading synth tones and a twitching, restless rhythm. The album's first single is the rhythmically-textured, sparse and sensual jam "Neptune" which effortlessly grasps the zeitgeist of the burgeoning indie r&b movement. Meanwhile, the album does reach full dance-party mode until track three, "Ice Water," a slowly-building jam that explodes into a throbbing dance groove before blinking out. Following these "blueprints" the album continuously mixes and matches a constant but always shifting core of influences through steady, uplifting tunes.
Smooth, lush and sticky sweet, Diver makes a fantastic pairing for Kasey's Chocolate-Apricot Clafoutis Cakes with Honey Drizzle. Like the album, the recipe is warming and upbeat, but smartly portioned to leave you craving more.
Buy Diver from Insound (or if you don't mind dropping $8 for shipping, you can score a limited-edition clear blue vinyl version of the album from True Panther). Then head to the Kitchen to read Kasey's recipe for Chocolate-Apricot Clafoutis Cakes with Honey Drizzle.