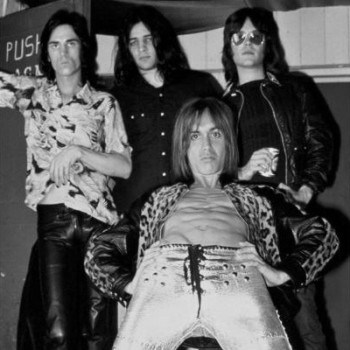 It's hard not to imagine a lot of head-scratching from casual rock critics when The Stooges released their debut album in 1969. Sure people had been exposed to the swagger and energy of groups like The Rolling Stones, The Troggs, The Velvet Underground; but the world wouldn't be exposed to punk at large for a few more years. After all, The Stooges' self-titled album predated The Sex Pistols and The Ramones by about six years. The album, and especially tracks like "No Fun" and "I Wanna Be Your Dog" are some of the best punk-prototypes ever penned. The latter of those tunes was a brazen ode to orgy-like degradation with The Stooges' larger-than-life frontman Iggy Pop singing: "And I'll lay right down in my favorite place / And now I wanna be your dog." The track has been often covered including by artists such as Sid Vicious, Sonic Youth, David Bowie, Slayer & Joan Jett. I've selected three great, recent takes on the track for your enjoyment.
The Record Company – I Wanna Be Your Dog (The Stooges Cover)
Ryan Adams – I Wanna Be Your Dog (The Stooges Cover)
Uncle Tupelo – I Wanna Be Your Dog (The Stooges Cover)
Here is the original for comparison. And, just for kicks, here is a razor-sharp bootleg of Iggy Pop performing the track with David Bowie in 1977.