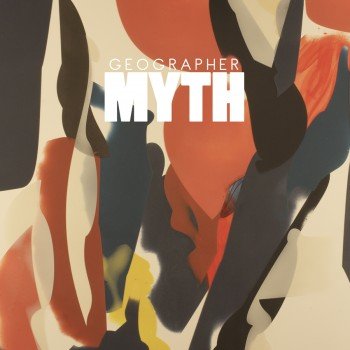 In the nearly three years since San Francisco-based orchestral electro-pop trio Geographer released their debut, Innocent Ghosts, they've grown significantly as a band. When reviewing their debut, I had described frontman Michael Deni's vocals as "emotionally rich" and the music itself as "perfectly cinematic." These are qualities that seem to come naturally for the trio whose music is instrumentally founded upon heavy synth lines, warm cello and pounding percussion. Indeed, Geographer retain these qualities on their sophomore album, Myth, which is every bit as lushly orchestrated and vocally powerful. On Myth, however, Geographer have expanded upon the framework they'd developed in their early recordings – now employing more complex and adventurous songwriting and slightly darker, grittier soundscapes. The overall effect is a more unsettling and sonically intriguing album that is certain to earn them many new fans.
The band's music is often both soaring and uplifting, traits which are belied by the fact that Geographer formed under dark circumstances. Following the tragic and unexpected deaths of both his father and his sister, Deni left his hometown in New Jersey for a new life in San Francisco. After discovering a synthesizer of the streets, Deni began experimenting with his songwriting. He began performing his music around the city, including at the open mic night at Hotel Utah where he was eventually introduced to cellist Nathan Blaz and drummer Brian Ostreicher. Not unlike Arcade Fire when recording Funeral, Deni was determined to find positive inspiration out of the tragedy that had befallen his family. The result was Innocent Ghosts.
Several years later, Myth comes from a different place than it's predecessor. The pain from the tragedy that had inspired Innocent Ghosts likely hasn't disappeared, but it is also not as immediate as it had been before. While the debut was pure and direct emotion, Myth is more contemplative and more complicated. In fact, Deni told our friends at The SF Critic that much of the music on Myth was inspired by the false belief as children that we'd better understand things in life when we grew older.
Opening track "Life of Crime" sets the tone for the album with warbling, disoriented ambiant tones, grimy synth lines and organic percussion. "The Myth of Youth" is plaintive and anthemic with swirling cello, grungy synths and crisp rhythms. Dark and neon-lit, "Kaleidoscope" is textural and hypnotic. Indeed, throughout, Myth remains both engaging, varied, and unified in it's vision. Even closer "Kites," which previously appeared on a limited vinyl 7″ release, is given new life in the context of the album.
Kasey's recipe for Clams with Mirin, Lime & Cucumber is clean, layered and brightly flavored recipe. As a result, it pairs with Myth which is similarly thoughtful, layered and polished. What's more the album is a great soundtrack to any memorable dinner. It's a natural musical pairing.
Head to the Kitchen to read Kasey's recipe for Clams with Mirin, Lime & Cucumber. Then head to Insound to buy Myth on vinyl. Afterwards, you might want to check out some videos of Geographer frontman Michael Deni performing some tracks with Thao Nguyen and Mirah during Noise Pop in 2010.