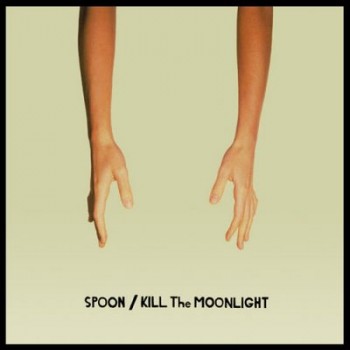 Let there be no doubt: Spoon is easily one of the top five greatest contemporary rock bands. In fact, very few bands have ever managed to consistently release albums at the quality most fans have learned to expect from Spoon. They are that perfect "go to band": the one that you know you can go to in your record collection when nothing else sounds good. At least that is how I feel about them. I'll pull out Gimme Fiction, Girls Can Tell, Ga Ga Ga Ga Ga or Kill the Moonlight any night of the week – or even every night of the week if it comes to it. And no matter how often, or how recently, I've listened to one of their albums I'm never disappointed. And what's not to love? They write great rock songs; they excel at clever production; and they are masters of track arrangement. To be honest, I've never been able to figure out which Spoon album is my favorite, but Kill the Moonlight is definitely a contender. It's certainly the most underrated Spoon album to date.
Kill The Moonlight opens with the concise, tightly-wound groove "Small Stakes." It's a tense rallying cry, with Britt Daniel wryly prodding the listener to take risks, to dare to live a life they are passionate about: ("Small stakes will kill time / when you're stuck in back of the line / It feels alright Friday night to Sunday / Aw it feels alright, keeps your mind on the page"). It's followed by the melodically irresistible ode to being a teenager, "The Way We Get By," which features a slinking bass line, crisp piano, tamborine highlights, chugging percussion, and no less than three references to the band The Stooges/Iggy Pop ("We go to sleep to 'Shake Appeal,'" "We make love to 'Some Weird Sin,'" and "Fall in love to 'Down on the Street'").
With a rhythmic backbone built from looped beat-boxing and an angular guitar riff "Stay Don't Go" offers an immediate punch despite its unconventional song structure and ambiguous phrasing. The beat-boxing should get annoying fast, but they keep the track tight and catchy. And if you missed the drums, you're greeted with the fast-paced, crashing-percussion heavy "Jonathan Fisk" immediately afterwards. The studio-psychedelic "Paper Tiger" is a beautiful and ear-quenching (I've always loved the line: "I'm not dumb, just want to hold you hand"). And the album includes one of my all time favorite album closers: the clouds part as the skies slowly clear and sun shines hard on the lovely, sonically-rich groove "Vittorio E."
In the Kitchen, Kasey has shared a recipe for Dates Stuffed with Rosewater-Almond Paste to accompany her list of things to look forward to in 2012.  I have a pretty long list of things I'm looking forward to in 2012, but let is suffice to say that a new Spoon album is something I'm hoping for from next year. The dates are honey-sweet with intriguing, complex flavor and mouth-pleasing chewiness. With those considerations in mind, Kill the Moonlight strikes me as a great Musical Pairing for these party-favorites.
If you're a Spoon fan, I want to hear about your favorite Spoon song/album.  I've also included their most recent "bonus track" from their website: a Series of Sneak-era demo for their cover of aMiniature's "Towner on the B-Side."
Spoon – Stay Don't Go
Spoon – Towner on the B-Side (rehearsal demo)(aMiniature Cover)
Dates Stuffed With Rosewater-Almond Paste!?!  Heck yeah!  Read the recipe in the Kitchen.  You won't need to leave the house to order Kill the Moonlight from Insound.