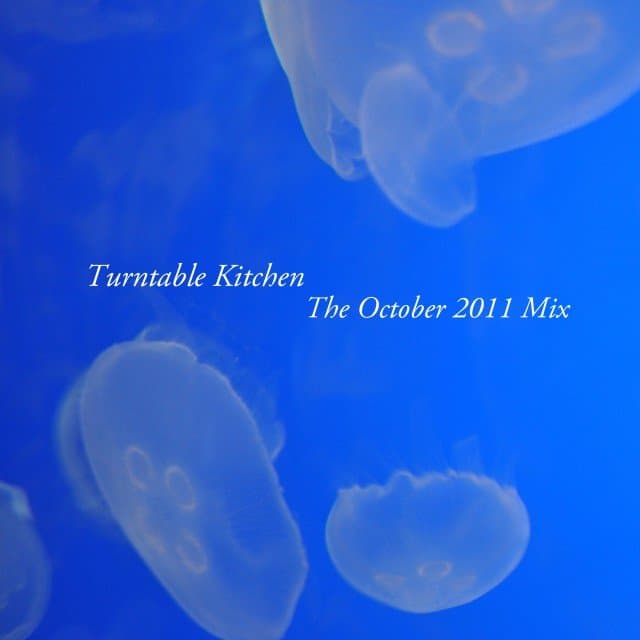 The October 2011 Mix is heavy on the new music with only a handful of tracks whose release will date back to more than a couple of months, but that is just a testament to all of the great music that has been making the rounds. I think 2011 will be remembered as a very good year for new music. A lot of the artists on here you've heard before if you follow us regularly, and a lot of the rest of it will be featured here in the near future during the course of the month. But however you look at it, the bottom line is that there is a lot to love here. Speaking of great music, I wonder if one of these artists is going to appear on a future limited-edition 7″ for Turntable Kitchen's Pairings Box?  Could be, but our lips are sealed.
Anyways, I'd suggest turning up the volume dial as loud as it will go and blasting these jams until you blow out those old speakers you've been using.  You're probably thinking: "But if I blow out my speakers, what will I use to listen to the Turntable Kitchen November 2011 Mix?"  Well, you're in luck!  We're partnering with Sonos to offer one reader a Sonos PLAY:3 speaker system and a Sonos Bridge to setup your Sonos wireless network (approx. retail value $350)!  Sweet, huh?  You can see a picture below.  But I'm not going to give this baby up easily. To win you're going to have to tell me your city's best kept secret in the comments section. I'll pick a winner on Monday, October 17th.  If you don't win, you can always score Sonos equipment at Target.
Update: The giveaway is now close and we've selected and notified our winner.  Stay tuned for more great giveaways!
Turntable Kitchen :: The October 2011 Mix (.zip file)
01. FIDLAR – Max Can't Surf
02. Ty Segall – My Sunshine
03. The Moor – Warm Winter
04. Leisure – Green Light
05. Strange Boys – Me and You
06. St. Vincent – Cruel
07. Warm Ghost – G.T.W.S.
08. Dead Western Plains – People Beat
09. Azealia Banks – 212
10. Coeur de Pirate – Wicked Games (The Weeknd Cover)
11. Work Drugs – Catalina Wine Mixer
12. Gospel Gossip – Dream Awake
13. Tashaki Miyaki – Nothing Can Change This Love (Same Cooke Cover)
14. Said The Whale – B.C. Orienteering
15. White Denim – Hot Thought
16. Poolside – Harvest Moon
17. Katie Kim – 20,500 Miles (The Pretenders Cover/Rework)
18. Hindi Zahra – Fascination
19. Waters – For The One
20. Cate Le Bon – Work