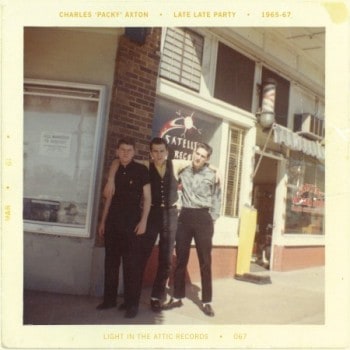 My music obsession knows few boundaries. Even though I post primarily about contemporary genres, I also love digging deep for forgotten gems — especially in genres like 60s/70s garage rock, soul, r&b and funk.  In that regards, one of the best decisions I've ever made for my record collection was to sign up for the Light In The Attic subscription service. Run by dedicated crate-digging music historians, the label's ability to find and reissue some of the best musical missing-links is pretty much unparalleled. Their latest release collects the music of Memphis-based tenor saxophone player and bandleader Charles 'Packy' Axton including tracks from his work with The Martinis, Stacy Lane, L.H. & The Memphis Sounds, The Pac-Keys and The Packers. The collection, titled Late Late Party * 1965-67, includes funky, floor-stomping grooves like "No Ending" alongside soul-soaked head-and-shoulder swaying ballads such as "House Full of Rooms."
The collection is diverse and includes both instrumentals and vocal cuts, and the sole unifying thread is the warm sax of Packy Axton.  Packy was the son/nephew of the founders of Stax records Estelle Axton (his mother) and Jim Stewart (his uncle).  During the years he recorded, Packy had a few scattered hits that were very well-received on the r&b and pop charts.  Sadly, Packy's music career and life came to an abrupt end when he succumbed to a battle with alcoholism in 1974.  Since that time, his music has become nearly forgotten by all but a few music fans until Light In The Attic decided to curate this collection of his tracks.  With permission from Light In The Attic, I am able to offer a stream of the track "No Ending" that Packy recorded with Stacy Lane.  I think you'll feel the groove.
Charles 'Packy' Axton :: Stacy Lane – No Ending

Buy Charles 'Packy' Axton – Late Late Party from Insound.