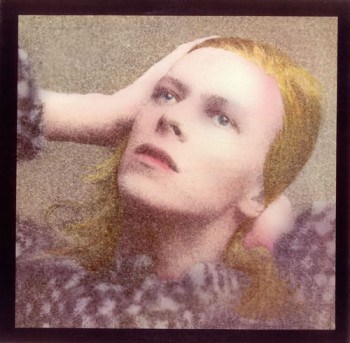 Tonight, we are drinking a bottle of the "good stuff".   It's a smooth, fruity Syrah with a chalky, silky finish from one of our favorite vineyards in the Dry Creek Valley. Tomorrow (as in Thursday, May 26th, the day when you are likely reading this) is Kasey's birthday, so, yeah, we are celebrating.  Although we don't have birthday cake to share with you, Kasey is offering an exquisitely gourmet balsamic strawberry shortcake recipe for your home culinary adventures.  And although drinking a bottle of fine California wine while spooning into a luscious strawberry shortcake may not sound super rock and roll, I promise you, it is all about the ambiance.  Because we are celebrating, we wanted to keep the mood melodically upbeat.  Since we were drinking a nice bottle of wine, I wanted to go for the "good stuff" for the turntable too.  Clearly, obviously, without hesitation, this was the perfect time to play David Bowie's Hunky Dory.
Released in 1971, Hunky Dory stands as one of David Bowie's most straight-forward pop albums, and it perfectly documents a period of stylistic transition for Bowie.  His previous albums, including The Man Who Sold The World, where more metal-tinged, and this album, more pop and folk inspired, clearly paved the way for his future albums – especially Ziggy Stardust.  Hell, "Life on Mars?" almost sounds like it was intended as a preview for Ziggy Stardust which followed a year later.  And Bowie approaches these stylistic changes with total confidence and swagger in full celebration mode.  And if the man was feeling a little celebratory here, he's classy about it, openly paying tribute to his influences on tracks like "Song for Bob Dylan", "Andy Warhol", and "Queen Bitch" (a Velvet Underground tribute).
This classic TK-favorite opens with light piano and descending bass chords before dancing into sweet, polished verses of spiraling strings and careening into sugary piano-backed jubilant-choruses on "Changes."  It's a highlight for sure, but it is hardly without peers on the album which is packed with beautifully infectious rock.  The next track on the album, "Oh! You Pretty Things" is a glossy glam-pop tune with the devilishly wicked chorus: "Oh! You pretty things / Don't you know you're driving your mommas and poppas insane?"  And if there was ever any question as to whether David Bowie was afraid of big moments, "Life on Mars?" conclusively settles the matter: there are very very few tracks in rock and roll history that are more booming and orchestral.  A huge sweeping piano tune alongside loud percussion emphatically underline Bowie's sky-rocketing croon.  And even if this is a relatively straight-forward pop album, he still isn't afraid to get weird, which he does in truly inspiring fashion with the acid-infused, psychedelic acoustic-jam "Andy Warhol."  If you haven't listened to this for awhile, go ahead – treat yourself to some of the "good stuff."
David Bowie – Oh! You Pretty Things
If you are looking for a big upbeat night, go check out that balsamic strawberry shortcake recipe.