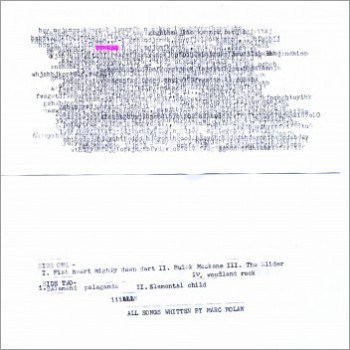 Record Store Day is this weekend, which means many record enthusiasts such as myself will be descending upon our local record stores to score various limited-edition, one-off vinyl records specially-prepared for the day. If you've never heard of it: it's like a holiday for people who collect records. And like so many other holidays, I celebrate it by blowing way more money than I can possibly justify – except in this case while skip from record store to record store across SF.  If you stop by the Record Store Day site you can scroll through the list of this year's releases.  As always, many of this year's most exciting records are "regional in nature, or very small runs."  For example, I'll be bee-lining towards copies of the Flying Lotus Cosmogramma Alt Takes record and Ty Segall's Ty Rex album as soon as I hit the shop.  You can hear a cut from Ty Rex below. A few other gems to watch out for:
* Cults – Abducted b/w Go Outside 7″ (2500 copies)
* Howe Gelb -Sno Angels b/w Melted Wires 7″ (750 copies)
* Pinback – Information Retrieved A 7″ (1500 copies)
* Ryan Adams & The Cardinals – Class Mythology EP 2×7″ (2500 copies)
* Nirvana – Hormoaning 12″ (4000 copies)
* Sonic Youth – Whore's Moaning 12″ (4000 copies)
* Sub Pop 12″ RSD sampler
* Kill Rock Stars RSD 12″ sampler
* The Submarines – Love Notes/Letter Bombs (900 copies)
* Radiohead – Supercollider b/w The Butcher (sadly UK and Japan only)
* Deerhoof / Xiu Xiu – Almost Xiu Xiu, Almost Deerhoof 7″ (2000 copies)
* Foo Fighters – Medium Rare (covers collection) 12″
* Fleet Foxes – Helplessness Blues b/w Grown Ocean 12″ (3000 copies)
* James Blake – James Blake LP (released 4 weeks early for RSD)
* The Decemberists – Live at Bull Moose CD (2500 copies)
* Joan Jett & The Blackhearts – I Love Rock & Roll reissue (1000 copies)
Did I miss anything?  There is something for you regardless of  your taste in music.  Also, keeping in the spirit of Record Store Day, let's promote the record stores we love: leave a comment sharing the name of your favorite record store.  For my part, I'll be making stops at Amoeba and Aquarius Records.  If I was still living in Ohio I'd drive to Shake It Records in Cincinnati.