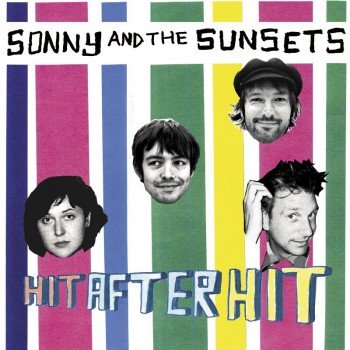 A band has to be either pretty confident or pretty playful to name their album Hit After Hit.  In the case of San Francisco's Sonny And The Sunsets, who named their latest album just that, I suspect it is a little bit of both. Of course, I'd suggest that maybe they've earned the right to be a little confident in their songwriting.  After all, in the past couple of years alone, front-man Sonny Smith has outshined even the most prolific of songwriters by penning an excess of 200 original songs, and he sure sounds like he is having a hell of a good time while he is at it. Of the 11 songs on Hit After Hit – each is the type of bouncing, upbeat track that can put a smile on your face and a groove in your stride.  They are upbeat day at the beach grooves with roots that reach deep into the fertile soil of 60's pop.  There are catchy hooks, wide-eyed wah-wah-wah harmonies, and all the straight-faced and sincerly upbeat lyrics you could ever hope for from a pop song.  Sure, Sonny and the Sunsets may be a key piece of San Francisco's contemporary local music scene, but they could have just as easily fit in with the Beach Boys, the Safaris, Ronny & the Daytonas and/or Jan & Dean in the 1960s.  Music you listen to while driving your car along Highway 1 on a sunny day on your way to a beach party with friends.
Kasey described the Muscovado Sunflower Seeds featured today in the Kitchen as a perfect snack for a road trip, and I think she might be right about that.  The recipe comes from San Francisco's Heidi Swanson's latest cookbook – Super Natural Every Day.  They are fantastically tasty.  Though, when I first saw them I didn't think they looked like much – but once I had my first taste, I couldn't keep my hands out of the jar.  They have a satisfying smokey-sweet molasses flavor with a nice balance courtesy of that savory sea salt finish.  And so they pair well with Hit After Hit which, as I suggested above, is great driving music.  It's also worth noting that both sides of our pairing are based on local San Franciscans.  And beyond that, like the Muscovado Sunflower Seeds, Sonny and the Sunsets don't rely on a lot of ingredients to make something great – they keep it simple – and largely succeed for that very reason.  It's smokey, sugary and simple.  Sounds like a good time to me.  Buy Hit After Hit from Insound.
Sonny and the Sunsets – She Plays Yo Yo With My Mind
Head to the Kitchen to read Kasey's recipe for Muscovado Sunflower Seeds.  Don't forget to "heart" our songs on hypem if you like what you hear!