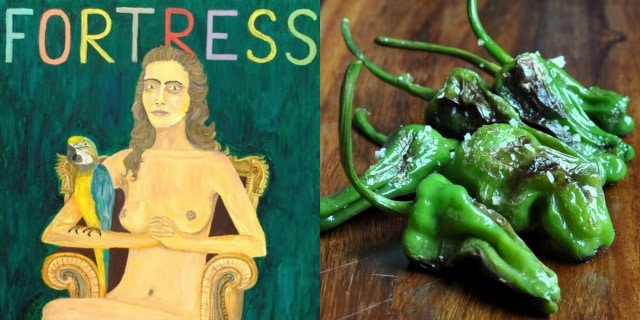 You know what I love?  When I discover things that are "awesome."  It's even better when I discover something that I should have discovered before, but that somehow was able to sneak past me, only to be discovered a little later on.  It is like I saved an awesome surprise for myself. For example, I saw Miniature Tigers when they opened for the Morning Benders at the Independent in SF back in March of this year. I remember thinking that they were awesome, but for some reason, I just didn't pick up their debut album at the time.  I've been feeling the same way about peppers recently as well.  As a child, I pretty much hated peppers.  As an adult, I've had no specific complaints about peppers, but only recently I discovered that I freaking love peppers.  They can be somewhat sweet (in a savory sorta way) and they can be ridiculously hot (a quality I immensely enjoy in food stuffs).  Grilled padron peppers with a little sea salt are a particularly great example of this new found love.  They always taste great, and can be surprisingly spicy.  And so what does this have to do with today's pairing?  Well, I also recently rediscovered the Miniature Tigers.  And you know what?  They are also awesome.  Their sophomore album, Fortress, is one of those albums that is entertainingly weird, but also fun and approachable: like distilling the music and feeling from a Wes Anderson film into an exciting and original album.
The album's first single "Goldskull" was recorded in Manhattan during an all night session with Neon Indian.  There are sparkling synths twinkling alongside organic percussion and frontman Charlie Brand's light falsetto.  It is a great marriage of two different bands that happily falls within the sweet spot resting between Neon Indian's style of synth-pop and Miniature Tigers' brand of psychedelic folk-pop.  Meanwhile, the rest of Fortress was recorded at Dreamland, a converted 19th-century church deep in the woods of upstate New York, and primarily produced by Morning Benders' frontman Chris Chu.  The result is a feather-light, big-screen form of psychedelic pop mingling the melodies of the Beach Boys with hints of the experimental arrangements of Animal Collective.  A few other personal favorites include the sunny acid-washed pop of "Tropical Birds,"  the anxious energy and light-headed chorus of "Bullfighter Jacket," and the loud jangly riffs and noisy percussion of album opener "Mansion of Misery."   Even better than those few highlights is the fact that the album is a happy, solid whole with no real weak spot that will keep your ears happily engaged from open to close for repeated listens.  You can buy Fortress from Insound.
Head back to eating/sf to read the best way to prepare grilled padron peppers.