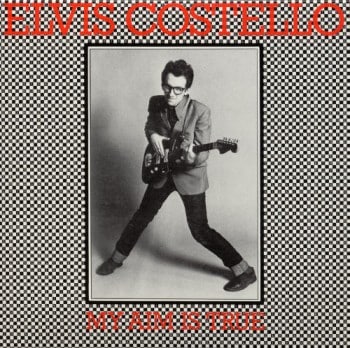 Dear readers, welcome to the working week. I know it don't thrill you, and I hope it don't kill you. And you know, Kasey and I would love to brighten your Monday a little if we could. And with that in mind, I'd like to say that I saved one of Kasey's whoopie pies for you – but I didn't. In fact, I pretty much ate them all by myself. We shared a few with some friends, but I definitely ate more than my share. Sorry about that. All I can say is that they were damn good. You'd have liked them. But don't get all angry and cynical, you'll just have to make some for yourself. You can score the recipe over in the Kitchen. And speaking of getting all angry and cynical, that brings me to today's Musical Pairing: Elvis Costello's debut album My Aim Is True. Costello's debut album blends elements of pub rock, the seething anger and cynicism of punk rock, and his own clever, witty and intelligent lyrics together to create a stunning, upbeat masterpiece. Without any shadow of a doubt, having inspired countless other artists, Elvis Costello's My Aim Is True is one of the greatest and most important rock records of all time. It's hard to believe that it is over 30 years old. It has held up amazingly well.
Elvis Costello was born Declan MacManus. His father had been a musician and had performed under the name Day Costello (Costello being Elvis Costello's paternal grandmother's maiden name). He adopted the last name Costello as his own as a tribute to his father, and later took the name Elvis (as in Elvis Presley) at the recommendation of his manager from his first record label: Stiff Records. My Aim Is True was written over the course of at least 7 years while Costello played small clubs and gigs across Liverpool. Costello recorded the album with the San Francisco roots/country band, Clover (who was led by Huey Lewis at the time – although Lewis was present for these sessions) which was living in England at the time. The album was finally released in 1977.
Supported by strong harmonies and short, upbeat guitar chops, Costello smokes through the concise (only a minute and twenty-three seconds!) and energetic opener, "Welcome to the Working Week." Few songs have ever so perfectly captured just how much it sucks to head into the office on a Monday morning – something Costello presumably knew all about at the time he recorded the album since he had to call in sick to work in order to record the album. It's followed by the bluesy, tumbling country-tinged punk of "Miracle Man", a song about an unappreciative lover as Costello nearly snarls: "Why do you have to say that there's always someone who can do it better than I can? But don't you think that I know that walking on the water won't make me a miracle man?" But for all of the directness of Costello's anger on those tracks, he is at his very best when his melancholy and animosity is masked behind doublespeak like it is on tracks like the album's centerpiece, "Allison." Musically, the track is bright, shining and positively pretty, but lyrically, the tune oozes in threat and innuendo as Costello sings "my aim is true."
Interestingly, one of the album's most popular and well-known tracks, "Watching the Detectives," wasn't included on the first pressing, and was only later added as the album closer. The tune spins together threads of reggae and punk as Costello sings the story of a man who desperately wants (he even gets down and begs) the attention of his lover who is engrossed in watching a crime drama on television (she is watching the detectives). When the woman continues to ignore his advances, the spurned man daydreams of shooting his lover and watching the detectives come to investigate the murder: "it nearly took a miracle to get you to stay / it only took my little fingers to blow you away." Even though it was only added after the initial release, it is a perfect album closer as it ties together the themes that run throughout the rest of the album. You can score a copy at Amazon.
Elvis Costello – Welcome to the Working Week
Head back to the Kitchen to read the recipe for Kasey's whoopie pies!