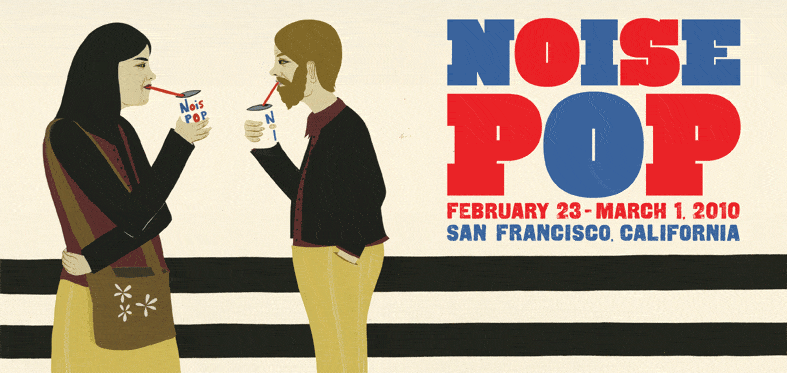 Noise Pop 2010 is here, and looks like it will be another amazing festival. As usual, most of the San Francisco's best venues will be hosting sold-out and nearly sold-out concerts, films, and art shows based around some of the best established and up-and-coming artists in underground rock and pop throughout the coming week. What follows is a list of what I think are the gigs you don't want to miss. Seriously, whatever you do, I'd recommend you try to get out and catch one or more of these shows.

Tuesday, February 23, 2010
It's the only gig that day, but it is a big one – and what a way to kick off the festival: Yoko Ono Plastic Ono Band (w/ Cornelius, Yuka Honda & Sean Lennon) w/ Deerhoof, Fox Theater, Oakland, Doors at 7:00, Show at 8:00. $39.50
Wednesday, February 24, 2010
This one is a tough call. Bottom of the Hill is featuring Rogue Wave, Princeton, Man/Miracle and Two Sheds. That is a pretty sick lineup. Tickets are $15 and doors are at 7:00.
The Rickshaw is also hosting an awesome lineup that night featuring a split bill with Foreign Born and The Fresh & Onlys. Tickets are $12 in advance or $14 at the door. Doors open at 7:00, Show at 8:00.
Still, I'm opting for Cafe du Nord where Gorilla vs. Bear is presenting some of the best young bands that will be gracing music blogs everywhere this year: Harlem, Best Coast, The Sandwitches and Young Prisms. Doors at 7:00, Show at 8:00. $12.
Thursday, February 25, 2010
This one is a little easier. The Dodos & Magik*Magik Orchestra Collaborative are performing at the Palace of Fine Arts. It should be a pretty awesome gig, and is my recommendation for that night. Tickets are $25. Doors at 7:00, Show at 8:00.
Friday, February 26, 2010
Another night packed with a number of fantastic options. Local independent music giant John Vanderslice is performing at Swedish American Hall. He's a Musical Pairing favorite and is highly recommended. Tickets are $15.
That same night there is a solid lineup at the Great American Music Hall featuring Atlas Sound, Geographer, Magic Wands, and Nice Nice. Tickets are $16. Show at 8:00.
Nonetheless, despite the other amazing gigs, I'll be heading over to The Independent which is featuring UK electro-composer Four Tet. Tickets are $18 at the door, but I think this one may be sold out. Doors at 7:00, Show at 8:00.
Saturday, February 27, 2010
Things don't get any easier on Saturday in terms of limiting your options. I'm personally still undecided. Here are the options:
The fantastic and Musical Pairings highly-recommended chillwave architect Memory Tapes is performing his first ever San Francisco gig at Bottom of Hill. Doors at 7:00, Show at 8:00. Tickets are $12.
Thao Nguyen (who usually performs with the Get Down Stay Down) is joining Mirah on stage in a rare semi-collaborative set at Swedish American Hall. Both artists are personal favorites. Doors 7:00, Show at 8:00. Tickets are $15.
!!! (chk chk chk) and Maus Haus are performing at the Mezzanine, which should be an awesome, danceable gig. Doors at 7:00, Show at 8:00. Tickets are $20.
Finally, Black Prairie (which includes most of the Decemberists minus Colin Meloy) are performing at the Rickshaw Stop. Doors at 7:00, Show at 8:00. Tickets are $14.
Monday, March 1, 2010
The final gig I recommend for the Festival is definitely The Magnetic Fields at Herbst Theater. This is your chance to get out there and sing along to "The Luckiest Guy on the Lower East Side." Doors at 7:00, Show at 8:00. Tickets are $32.50 – although this one is probably sold out.