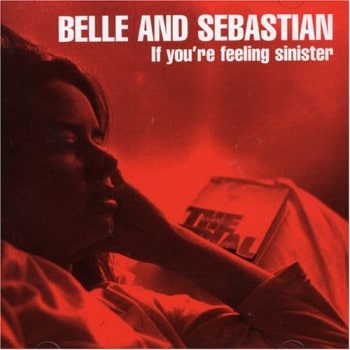 Kasey is featuring a Fall salad recipe that we prepared to go with our New Year's eve dinner over on eating/sf today. And let me tell you, this salad is no ordinary salad. First of all, the inspiration for the dish came from Thomas Keller's book Ad Hoc at Home (if you don't know who Thomas Keller is – I've provided a useful Wikipedia link here). Second of all, this salad has serious flavor: there are persimmons, blanched leaks, prosciutto, and so much more going on. So it is an autumn/winter salad with depth, pedigree and a lot of delicious instruments playing in harmony. In other words, this is a perfect recipe to pair with Belle & Sebastian's amazing 1996 sophomore album If You're Feeling Sinister.
Almost unbelievably, Belle & Sebastian began as little more than a class project for Stuart Murdoch and Stuart David who prepared the first tracks for a Music Business course. At the time, none of the original members expected the group to become a serious project. Indeed, their debut album, Tigermilk, was limited to a mere 1,000 copies that unexpectedly (for the band anyways) sold out in a few weeks. Surprised by their success, the band recorded If You Are Feeling Sinister as not just their follow up but as their introduction to the rest of the music world who never scored one of those limited original copies of Tigermilk. And what a great way to make a first impression. The album opens with the track, "The Stars of Track and Field," which begins as a delicate tune consisting of lead singer Stuart Murdoch's boyish singing, clever lyrics and gentle acoustic guitar, but soon enough the tune evolves to incorporate twinkling guitars, piano, bright horns, and tense drumming. It is followed by the nostalgia-inducing jazz-piano melody (think: A Charlie Brown Christmas) of the gorgeous "Seeing Other People." The next track, "Me & The Major," a rollicking tune if there ever was one, is the only track by a contemporary band that has ever made me wonder why more bands don't build songs around a harmonica. They continue billowing out hit after hit with "Like Dylan In the Movies" and "The Fox In The Snow." And despite how amazing these tracks are, for me the album's highlight is the evocative and lovely "Get Me Away From Here, I'm Dying." Beautiful, infectious guitar and smart, fun lyrics that together seem to call to mind countless other classics, but still managing to sound entirely original. When Murdoch sings "Nobody writes 'em like they used to so it may as well be me," you know he means it: the melody is entirely timeless, beautiful, evocative. In fact, that pretty much sums up the album. If You're Feeling Sinister is justifiably considered a masterpiece. Pick up a copy at Insound.
Belle & Sebastian – Get Me Away From Here, I'm Dying
Head back to eating/sf to read Kasey's recipe for her Thomas Keller-inspired Fall Salad.