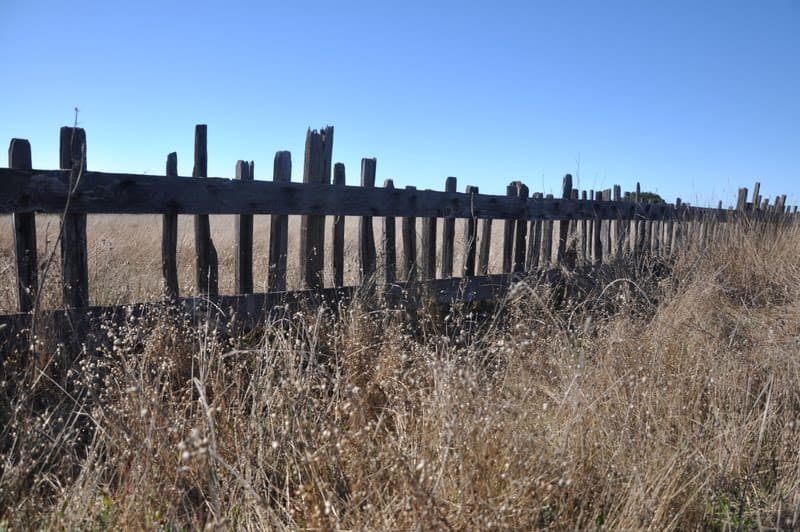 Have I told you about my lovely weekend yet? I don't think so–I haven't had time to really breathe since I got back. And, alas, it's already Friday, and it's time for a local review. As I mentioned, last weekend was Matt's birthday. I made a caramel cake, and whisked him away for our first married couple weekend in Mendocino and Sea Ranch. I made a mistake, though. When I booked the Sea Ranch Lodge, a gorgeous hotel on the water, I thought we were staying oh…just a short lil' drive away from Mendocino. In fact, Sea Ranch is its own area–about an hour and half south of Mendocino. Whoops! Ultimately, the choice was still a good one. Not only did we get to enjoy an impressive trapeze act as part of downtown Mendocino's Halloween street party, but we got to tuck away into a little oasis on the edge of the Pacific Ocean, nowhere near any major town or city. We took walks along the cliff's edges, enjoyed some wine, and just tapped out–so much so that our phones couldn't even pick up a signal.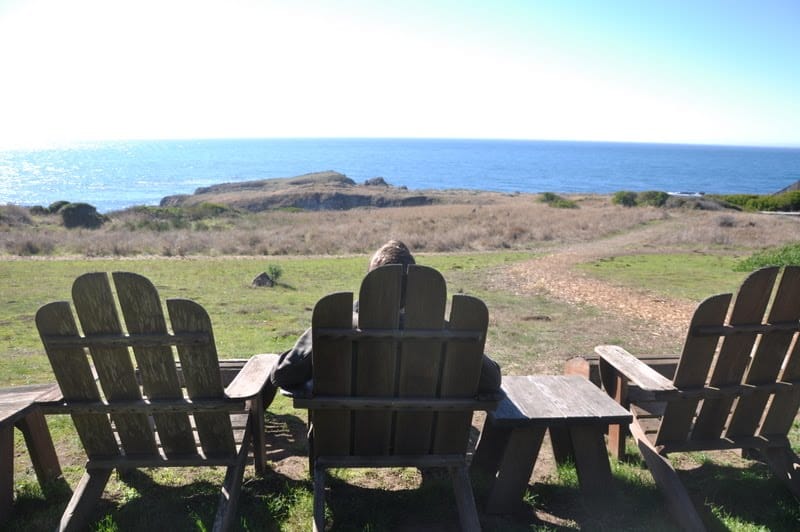 When I initially realized that downtown Mendocino was a wee bit of a drive from Sea Ranch, I thought that maybe it wasn't worth heading there just for dinner at Cafe Beaujolais. I had booked it weeks in advance, but I also hesitated at the three hour round trip commute. But Matt insisted that we go, especially since we were curious about the nighttime circus acts.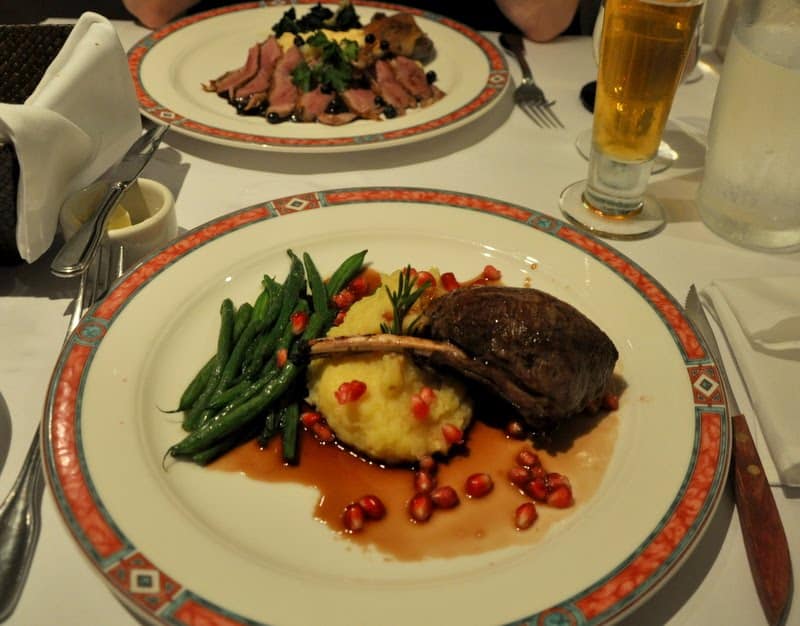 We took off on the windy, forested road, along which a fair amount of folks had pulled off with baskets–presumably in search of mushrooms. After strolling around the little town of Mendocino, and enjoying a glass of wine at the Mendocino Hotel, we found Cafe Beaujolais tucked into a neighborhood street. A sunny little yellow house.
The restaurant itself felt cozy, and appropriate for a special occasion. We started out with housemade bread, and local crab cakes with Asian slaw and noodles. The serving was generous–two large crab cakes and plenty of sauce and salad. The crab cakes themselves were tender and delicious. For our entrees, we went the adventurous route–Matt ordered the house special of the night: venison with sweet potato puree and pomegranate reduction, while I opted for the duck (as I often do), prepared two ways and accompanied by a celery root puree, wilted kale and local huckleberry sauce.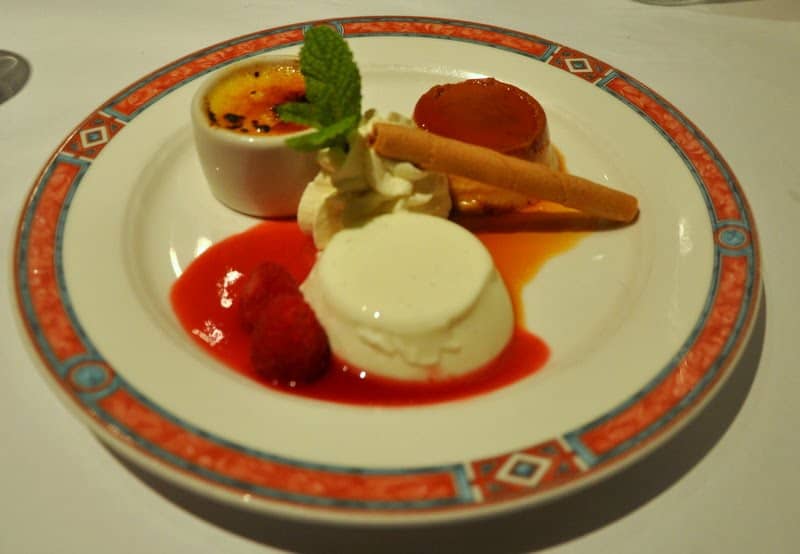 The dishes were impressive, to say the least. Matt's venison was perfectly cooked, woodsy, yet slightly sweet from the pomegranate sauce. Meanwhile, my thinly-sliced duck breast and leg were just perfectly cooked. The huckleberries added a nice touch, and my kale was cooked to perfection.
For dessert, I opted for Italian panforte (it brought back memories of my time in Italy). Matt, of course, got the custard sampler, of which the cream cheese creme caramel was his favorite (not surprising). By the time we finished our dinner, the main attraction of the street party was in full swing–a trapeze performance to rival Cirque du Soleil (I kid you not!). Full, happy, watching a no-harness air act, surrounded by a crowd in costume, knowing that our long drive back to the hotel would lead us to our perfect little room by the sea, I couldn't help think to myself that unexpected surprises aren't always so bad.
Local Pairings: Local Pairings: Or, The Whale – Or, The Whale + Cafe Beaujolais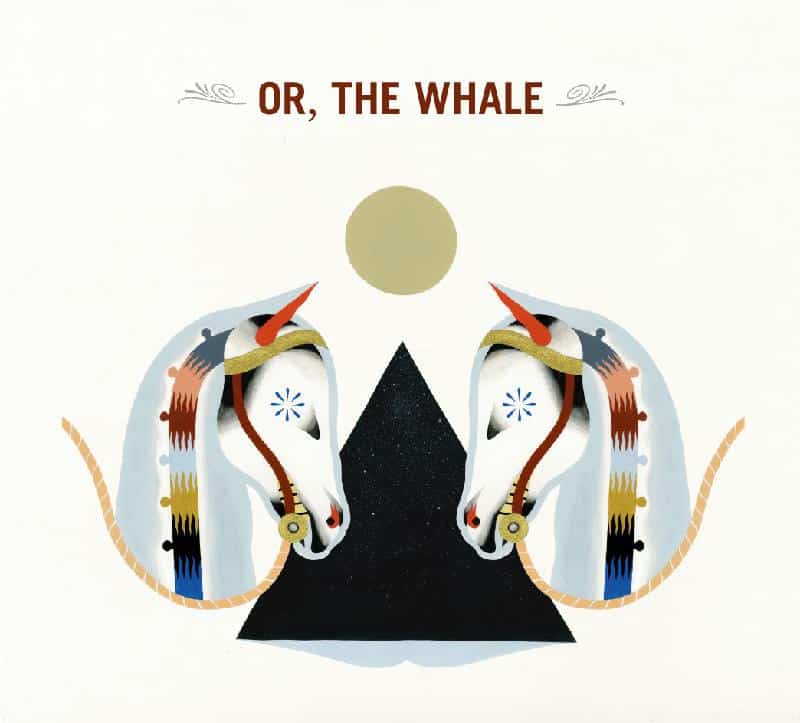 The San Francisco indie-Americana seven-piece Or, The Whale know how to pen heart-clenching ballads and floor-board stomping rockers. This is amply demonstrated on their self-titled sophomore release, an album which also showcases considerable song-writing prowess and maturity. The record was recorded at Tiny Telephone Studios in San Francisco and features all of the hallmarks of a great folk/country album: a beautifully sad song about a dog that has passed away, bluesy tunes about heart-break, banjo, slinking bass, acoustic guitar, pedal steel guitar, five excellent vocalists, light percussion and a weathered sounding piano. The band presumably takes their name from the full title of the book Moby Dick (the full original title of which is Moby Dick, or, The Whale), which seems appropriate considering that one of the bands many strengths include literate, narrative lyrics. To read more, head over to Musical Pairings. –Matthew