Last Friday, I wrote about Cafe Beaujolais, a delicious French dining experience in downtown Mendocino where Matt and I celebrated his birthday. Today I bring you Le Petit Rive, which, officially is a restaurant that lies just outside of Mendocino, in a tiny little place called Little River, tucked behind a postal office, which an ocean view that's worth more than the space ever bargained for.
I was initially tipped off about the restaurant by one of my blogger friend, Janet, who actually provided me with an extensive list of ideas for things to do around Mendocino. I was beyond excited. Le Petit Rive only does two seatings a night–at 5:30 and at 8, and the little restaurant does not mess around. Guests arrive and are promptly seated and served their five course meal at the same time. Did I say five course? Yep! At a very reasonable price, might I add.
We started with their take on the Monte Cristo–a small puff pastry with gooey cheese and ham, served with a sweet berry sauce, and a sip of dessert wine to get things going. Next came the soup–a creamy tomato goat cheese puree that was particularly warming on an evening that was starting to get chilly. The salad was least impressive–the third course of our menu–but refreshing none the less. As was our 'palate cleanser' sorbet.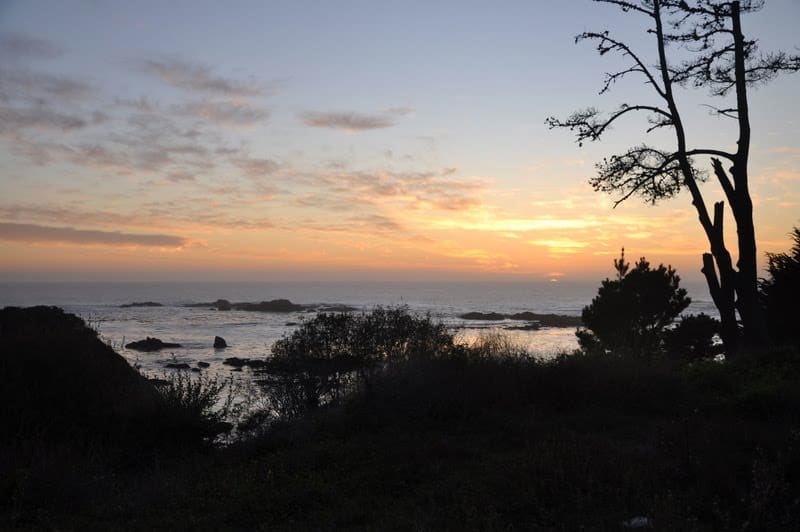 The main attraction that night, though, was the crispy 1/2 duck, which Matt and I both ordered. As I said earlier, this place does not mess around. My plate came out with some asparagus, crispy little potato cakes topped with dollops of sour cream and half of a roasted duck, fragranced with roasted ginger and set atop a luxurious blackberry sauce.
It was a glorious way to end our weekend, and worth the long drive home during which (despite promises of staying awake), I kept nodding off. Funny enough, despite all of the overwhelmingly positive reviews that this place has gotten–on Yelp, The Wall Street Journal and through word of mouth–there are still some people (no names mentioned!) that argue this place is overrated and earns its high reviews simply because it serves a lot of food for not a lot of money. I beg to differ. A lot of food is served, but it's all quite delicious. More, I love how you feel like you're really part of something. As the food comes out, simultaneously, you know that all of the diners are ooh'ing and ahh'ing at the same thing, at the same time.
Local Pairings: Wooden Shjips – Dos + Le Petit Rive (Little River, CA)
San Francisco's Wooden Shjips offer songs that are equal parts swirling psychedelic repetition and fuzzed out garage rock. It's sorta like mixing together the "broke-ass" garage-rock of Akron, Ohio's the Black Keys, the trancey sounds of Neu, and an extended, drugged-up live version of the Doors' "Light My Fire." The result is a unique sound summed up as a hypnotizing and hazy rawness mastered by driving, repetitive bass lines; primitive, rhythmic drums; ghostly, distant vocals; and bristling, explosive guitar solos. Their strongest release to date is their aptly titled sophomore release Dos. Head to Musical Pairings' home to read the rest. –Matthew