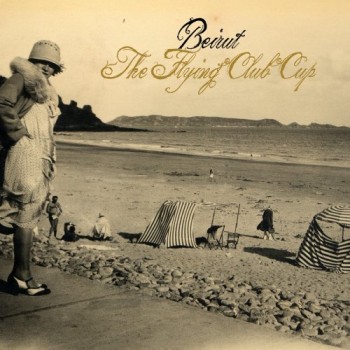 The plum clafoutis recipe that Kasey prepared for dessert is an adaptation on what has been described as a "quintessential French" dessert. It is custardy and sweet, and it was a huge success when Kasey made it. We enjoyed this recipe on a warm summer evening following a delicious barbecue on her parents' back patio with her aunt and niece who were visiting from Moscow, as well as my parents were visiting from Ohio. So I think the perfect Musical Pairing for this recipe would also be inspired by France, and would also be perfect for a lazy summer evening enjoying wine and happy conversation with family and friends. In other words, the perfect pairing is Beirut's sophomore release, The Flying Club Cup.
The Flying Club Cup is an album inspired by Beirut frontman Zach Condon's love affair with France. Album opener "Nantes" sounds mysterious and exotic, but still warm and comforting: not at all unlike the experience of visiting a viillage in Southern France for the first time. Imagine: your belly is full of good food, you sip a glass of a full-bodied Bordeaux and meanwhile the song "A Sunday Smile" gently rolls and bounces, swaying listlessly back and forth in a comfortably relaxed haze in the background. My favorite track on the album has always been the almost romantically vaudevillian "Cliquot" (update: although my favorite is still "Postcards From Italy" which was our first dance at our wedding).  If you haven't picked this up already, here is a handy link to Insound, where you can order your copy on wax.  What's your favorite track by Beirut?
Beirut – A Sunday Smile
Beirut – Hallelujah (Leonard Cohen Cover)
The Hood Internet – Save Me Concubine (Beirut v. Ghostface Killah)
Head back over to the Kitchen home to read how to prepare a plum calfoutis for your next Beirut listening party.