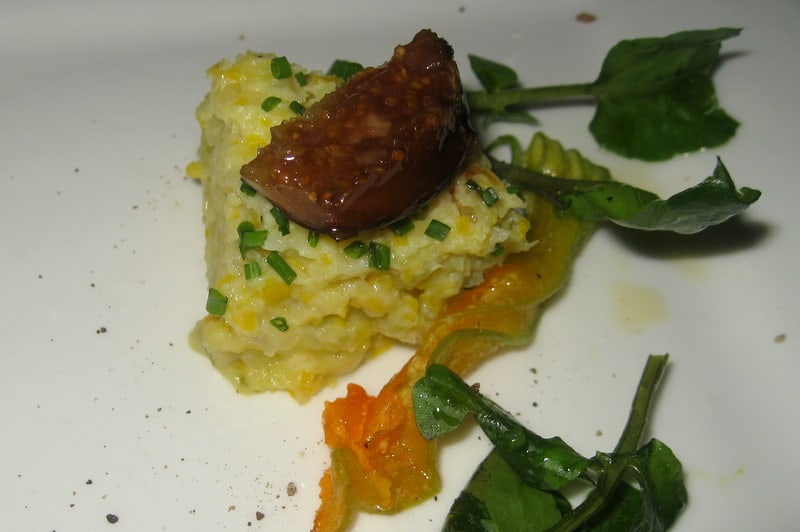 Let me just start by saying that there should always be an excuse for a celebration. In this case–a much-anticipated double date with our friends whom we've been meaning to casually grab dinner with for months. But, between weddings, weekend getaways, charity walks, business trips and family visits, we just couldn't find the time. Alas, a few weekends ago, we set a date and we set a location: Maverick in the Mission. A tiny little space that you've likely walked right past if you live in San Francisco.
Like many San Francisco eateries, Maverick focuses on fresh and local, with a little Southern comfort twist. With sturdy solid wood tables, a tiny little bar, big open windows and a brick-and-mortar modern feel, Maverick is a little mix of Boston, New York and San Francisco, rolled into one compact and hip little abode. Fueled by drinks at nearby Elixir and our first bottle of wine, we indulged in an amuse buche that consisted of a delicate squash blossom topped with a little souffled-quiche type bite and a fresh fig. Perfection. Prior to our actual meal, we were also served single sips of water flavored with fresh tomato and potentially basil to 'cleanse the pallet.' I must admit that we felt a little bit like rock stars due to the fact that our friend Tim actually knew the owners, who poured our wine, chatted about the specials and swung by just to say hello. While our service was impeccable, I have no doubt that so was everybody else's.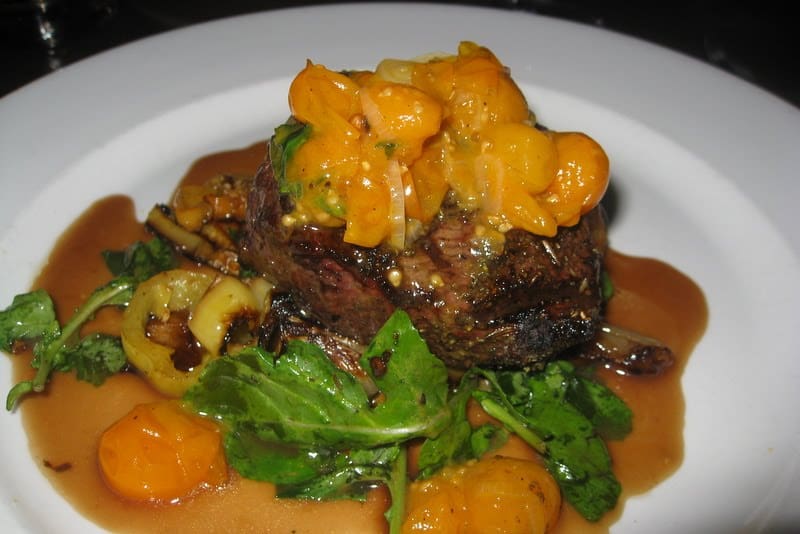 We certainly didn't go small–for appetizers, we had the heirloom tomato and cucumber salad drizzled in a light pesto, and the Baltimore crab puffs–basically the most delicious bite of airy, juicy crab enveloped in a soft, slightly-crunchy crust. Dipped in a spicy sauce, these little puffs were absolutely everything I had hoped for, and more.
For mains, the men in our group opted for pork belly and Gulf Shrimp over grilled corn and black eyed peas, while I chose the rosemary-salt-rubbed sirloin steak and Sarah chose the lamb. All of the dishes were executed perfectly. My steak was so succulent, accented with beautiful roasted peppers and tender little fingerling potatoes. We also got a big bowl of little grilled padron peppers with sea salt–kind of a recent obsession of mine. Mild flavored and slightly charred, I could pop these like sesame seeds.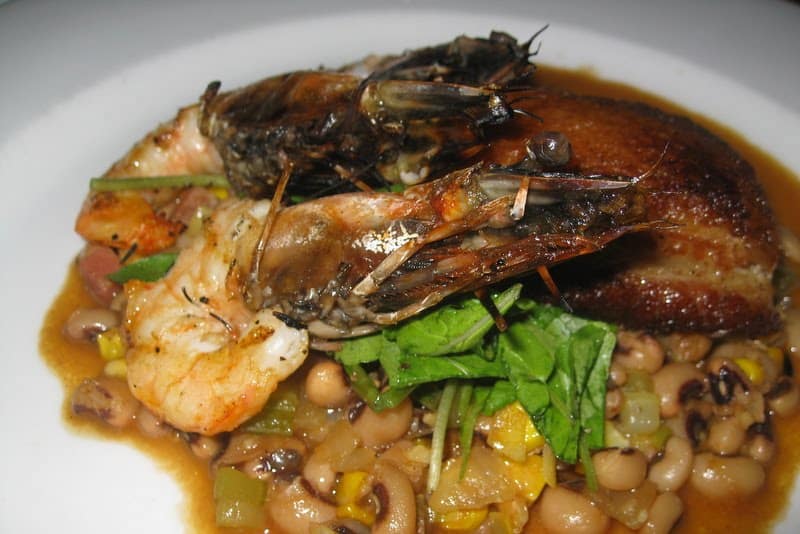 Of course, no dinner would be complete without a second bottle of wine and fresh. baked. cookies. with milk. Do you hear me? They bake these cookies to order so you bet they come out warm and gooey straight out of the oven. Simply phenomenal. I'm not saying these are the best chocolate chip cookies out there (cause they'd have to rival my home baked cookies), but the novelty of warm, straight from the oven cookies purely capture the excitement of pulling that baking sheet out of the oven and burning your tongue on the melted chocolate.
This dinner truly felt celebratory and as local as could-be. Both Scott and Michael (the owners, chef and wine director, respectively) were incredibly pleasant and despite the extraordinary bill (this dinner was not cheap!) I felt good about eating here, supporting their built-from-the-ground up establishment and enjoying really fantastically-prepared food. Mark my words: I will be back!
Local Pairings: Girls – Album + Maverick, SF, CA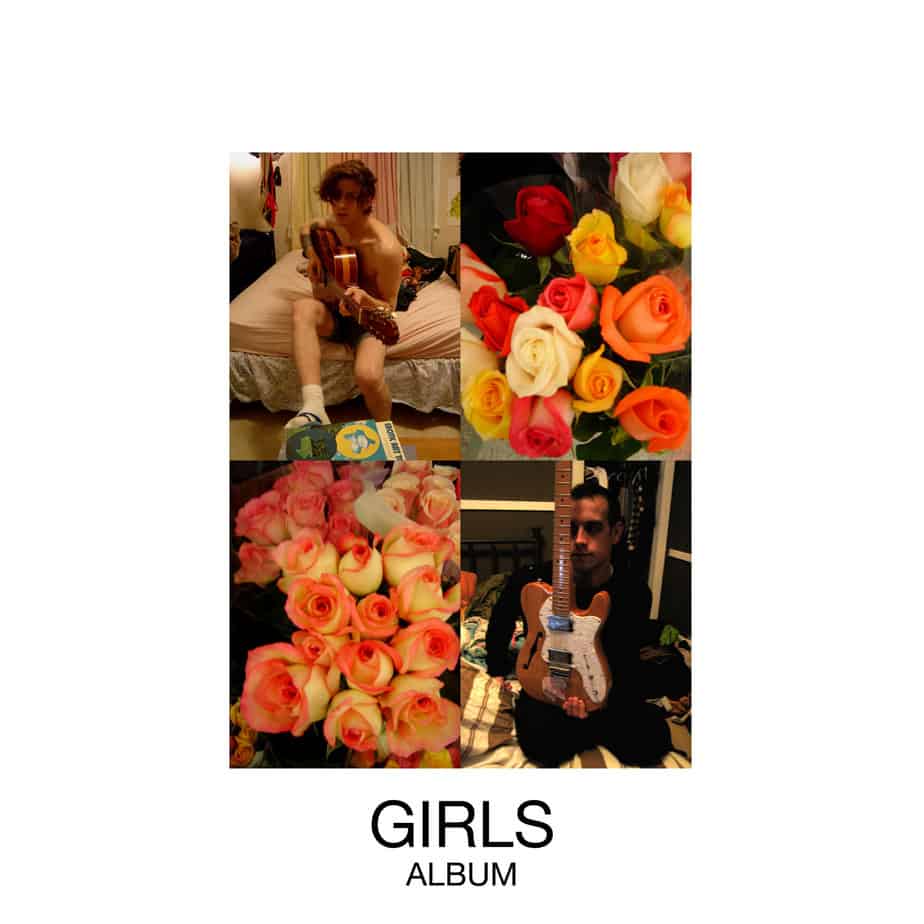 San Francisco's Girls is led by Christopher Owens, a songwriter who is both anchored in the sunny pop of the 1950's and 1960's, but also forward looking and thoroughly modern. Although San Francisco is only Owens' adopted home, he is clearly an artist who understands the Bay Area: Girls' Album is a snapshot of San Francisco in 2009. It truly is the perfect album to soundtrack summer days in Dolores Park, Golden Gate Park, shopping for records at Amoeba, sitting around a bonfire at Ocean Beach, or hanging out with friends in a small two bedroom apartment anywhere in the city. It is eccentric, but not so much so that it is entirely outside of normal. In fact, like the city that Owens has adopted as home, each song is like a micro-climate of a greater, cohesive whole with the result that songs are sometimes sunny, sometimes foggy, but most are a little of both. So moving beyond the San Francisco comparisons, the really important thing to know about Girls' Album is it actually lives up the significant amount of pre-release hype it has received. I have no question that when we look back in December this record will be near the top of many of the year's "best of" lists. For more of this review, click over to Musical Pairings @ eating/sf. –Matthew