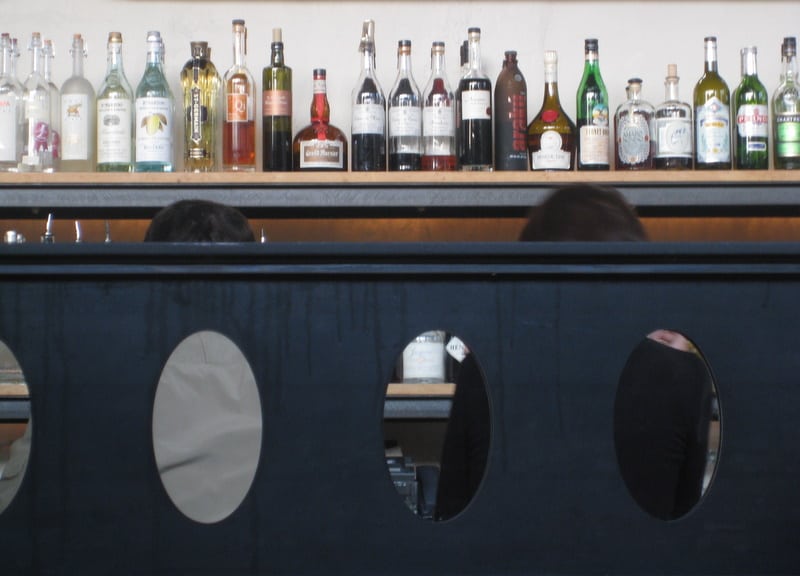 There's something that always seems to pull me into hidden little nooks and crannies. Whether they be alleys–each with unique personalities (boisterous, quiet and cozy, peaceful)–off-the-beaten-path hiking trails, or used bookstores–the 'diamond in the rough' always seems to spark my fancy.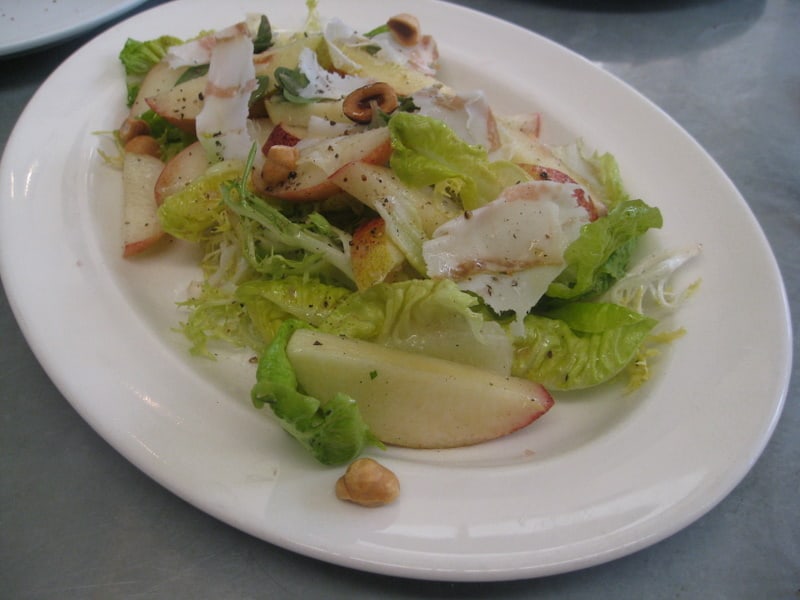 It's kind of like that with neighborhoods, too. I know that the Inner Sunset might not be 'hip,' but it's the coziest place I've found in the city yet. For hanging out and going out, though, many of my favorite city neighborhoods are definitely a little rebellious. The Dogpatch strikes me as a little rebel. Off to edge of the city, filled with 'hipster bunkers,' as a cab driver recently referred to the apartments and condos lining the streets, it's definitely a place that I rarely find myself in, but am always kind of intrigued by. I visited Piccino when I last ventured out. This past weekend, it was Serpentine that drew me in. In the heart of the Dogpatch, the restaurant definitely struck me as a the cool kids' hangout. With soft lighting, a lot of black and cream, and a laid back attitude, Serpentine was the perfect way to start my 4th of July weekend. We started our meal wtih a beautiful white peach and nectarine salad with fresh lettuces and house cured pancetta. The salad, and my glass of vino verde literally made me feel like I was diving into an ice cold swimming pool on a hot summer day–despite the tumbling fog.
We opted for hearty mains–Matt for the gnocchi and wild mushrooms, and I for roast duck leg over corn puree and Mission figs. Both dishes were exceptional–both in flavor and presentation. While on the pricier end (most entrees ran about $24), I felt that the atmosphere of the restaurant and the quality of the ingredients befitted what I'd call 'high-end dining/low-key experience.' One of my favorite parts of the meal, though, had to be the dessert. A warm almond cake topped with Bi-Rite vanilla ice cream and a cherry compote–it was truly delicious to the last crumb. The visit could definitely inspire me to visit the 'hood more often–particularly if I could convince my friends to come out and hang out at Yield Wine Bar–where happy hour (which lasts until 8 pm on Thursday) carafes run $10, and all of the wines are organic. You could even order some delicious chocolate nibbles (as we did), cheese plates and other savory nibbles.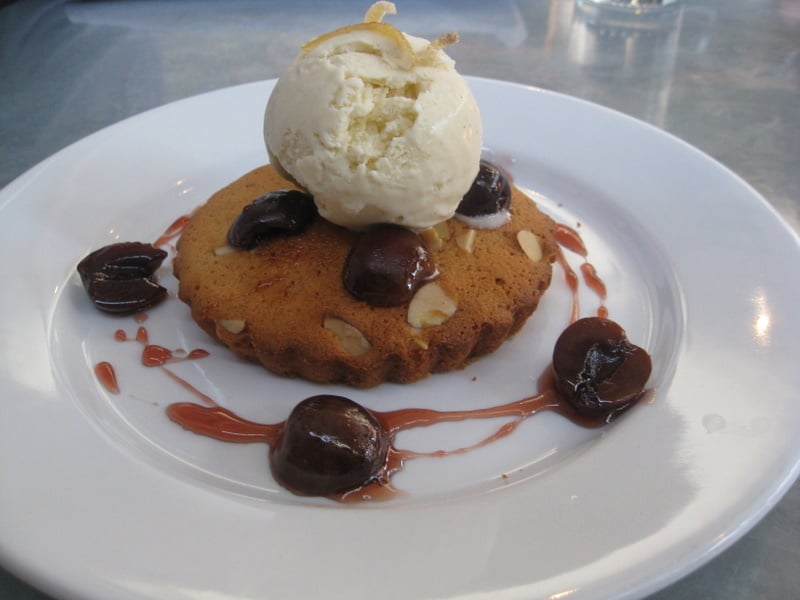 Wherever you are, I hope that you're enjoying your 4th of July weekend, staying safe and enjoying good food!
Local Pairings: Man/Miracle- Pushing and Shoving/ You've Got a Hold on Me 7″ + Serpetine (SF, CA)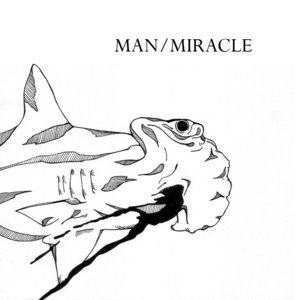 Man/Miracle are a four piece band (Ian, Dylan, Brian and Tyler) from Oakland, California (originally formed at UC Santa Cruz). Their name, Man/Miracle, is a reference to a 1960's film starring Belgian singer/songwriter Jacques Brel, who reached superstar level in Paris and Belgium as a musician, actor and director. While Man/Miracle have a way to go before they reach superstar level, they are definitely a band to watch. Based on the tracks I've heard, I'd bet they have at least a couple great albums in them. They have been hard at work on material for a potential full length that they recorded with Eli Crews of New, Improved Recording in Oakland. Last I spoke with them, they were in the mastering process. However, in the meantime the band has released a pretty awesome 7″ titled, Pushing and Shoving / You've Got a Hold On Me, which is out now on white vinyl and silk-screened jackets hand-sewn from canvas. As you can imagine, as a vinyl junkie and record collector, I'm pretty impressed. Even better the music is great, and it is presumably limited edition, so this is one you should get your hands on while it lasts. You can buy it here. Come on over to Musical Pairings @ eating/sf for the full review. –Matthew