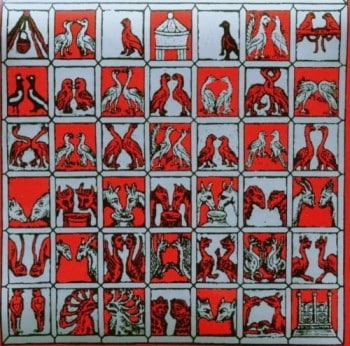 If you are a regular reader of eating/sf, you know that Kasey and I are new converts to the church of Zuni roast chicken. Before we actually visited the restaurant, I was pretty skeptical. After all, I like roast chicken, but could any roast chicken be so good it would actually be notable? It's interesting to me how you can hear so much about a restaurant, but never quite get around to actually checking the place out. For me, Zuni was a great example of this. I've lived in San Francisco for nearly 8 years, and it took me nearly this long to make it to this local institution. Once I finally did, it took one bite to make me a convert. And while many of our readers don't live in San Francisco, and can't make it out to the actual restaurant, this recipe is a very close second best (if not better!). This can happen in the music world too. I'd heard of Califone for the first time probably back in 2001 or 2002, but it took me a number of years before I actually listened to one of their albums. Once I did, I found myself wondering why it had taken me so long. The Zuni roast chicken recipe is flavorful, complex and gourmet, yet rustic. Califone's first full-length, 2001's Roomsound, is likewise complex, rustic and masterful, and therefore is a fitting pairing for this recipe.
Roomsound opens with the lyrically enigmatic and musically intricate track "Trout Silk." The track opens with simple, rootsy acoustic guitar strumming and lead singer Tim Rutili's weary, stream of consciousness lyrics. Ambient whirring, spacey wah-wahs and a muted kick drum roll out as the track unfolds and lend to a very urban, organic tone. At the end of the song, "Trout Silk," simple evaporates and the track "Bottles and Bones" springs forth. The lyrics here are ambiguous but evocative: "forget your sweet decline / this is the longest goodbye / aching to get your pocket picked / bottles and bones shade and sympathy." "Bottles and Bones" is the most accessible track on the album for first time listeners, comfortably straddling the fine line between pop music and experimentation. Nonetheless, the whole album is strong, and Roomsound really opens up on repeated plays, rewarding listeners who put in the time. In fact, I've had the album for at least 4 years now, and it continues to grow on me with every listen.
Califone – Roomsound is currently on sale at Insound. Go ahead and buy it – you won't regret it.
Head back to our Kitchen to read the recipe for Zuni roast chicken and bread salad.