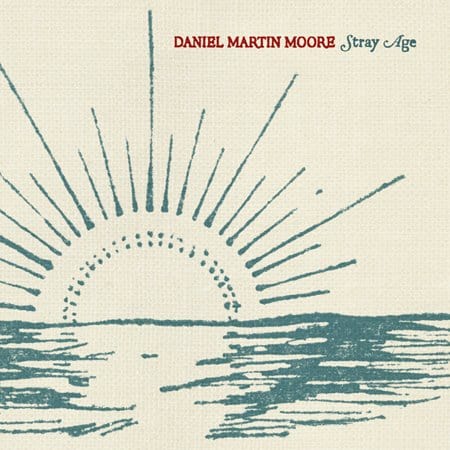 Recently, I've started researching the key ingredients in Kasey's recipes in order to find inspiration for our Musical Pairings. It never fails. In this case, when researching 'beets,' I discovered that they have been used in a wide variety of medical applications. And, as it turns out, beets and music share numerous characteristics. For example, beets, like music, are considered an aphrodisiac. Also, beet juice can be used to lower blood pressure; and it may come as no surprise that "quiet, rhythmic music" can also lower blood pressure. So the perfect pairing for Kasey's balsamic beets and greens with oranges and pecans would be quiet sexy, music to calm the soul. This conclusion led me to Daniel Martin Moore's debut album Stray Age. It is beautiful, tender music, and is guaranteed to lower your stress levels and maybe even make you feel a little amorous. So, to quote the first track on Stray Age, "Darlin' come be close and be rested."
Daniel Martin Moore is a singer/songwriter from Cold Spring, Kentucky. His bio notes that he submitted his debut to Sub Pop as an unsolicited demo, and despite the fact that Sub Pop has historically refused all unsolicited demos, after listening to it, they signed him on the strength of those demos. And after listening to this record a few times, it comes as no surprise that Sub Pop treated his demo as a cause to reevaluate their longstanding policy. After all, if the demos were anywhere near as good as the album, it would have been easy to identify Daniel Martin Moore's talent and promise.
Undoubtedly, prior reviews of Stray Age have compared Daniel Martin Moore to Iron & Wine and Bon Iver. And in the sense that this is a folksy, intimate album of charming songs featuring an artist with an impressive singing voice accompanied by upbeat acoustic guitar – those comparisons are right on. However, despite the similarities on paper, those comparisons do no justice to either Daniel Martin Moore or Iron & Wine/Bon Iver. Unlike those artists, his instrumentation is simple, his lyrics straight-forward, and his music more traditional and jazz influenced. I'd actually compare Daniel Martin Moore to Nick Drake. Many of the songs on Stray Age are just Daniel, his acoustic guitar, and some soft percussion. Due to the strength and warmth of his voice, the tracks don't really need anything else to succeed. Go check out the album–it's good.
Download the MP3: Daniel Martin Moore – Stray Age (courtesy of Sub Pop records)
You can buy the CD in most record stores, but, as usual, I recommend picking it up on vinyl. The vinyl edition of Stray Age was released by Shake It Records, and includes a bonus track and a limited edition 7″ of demos and b-sides.
Also, even though Christmas is a long way off, I recommend stopping by the Futurist at WOXY to hear Daniel Martin Moore's take on a number of Christmas classics including Christmas Time Is Here (from It's Christmas Charlie Brown).
Finally, go back to our homepage to read Kasey's recipe.