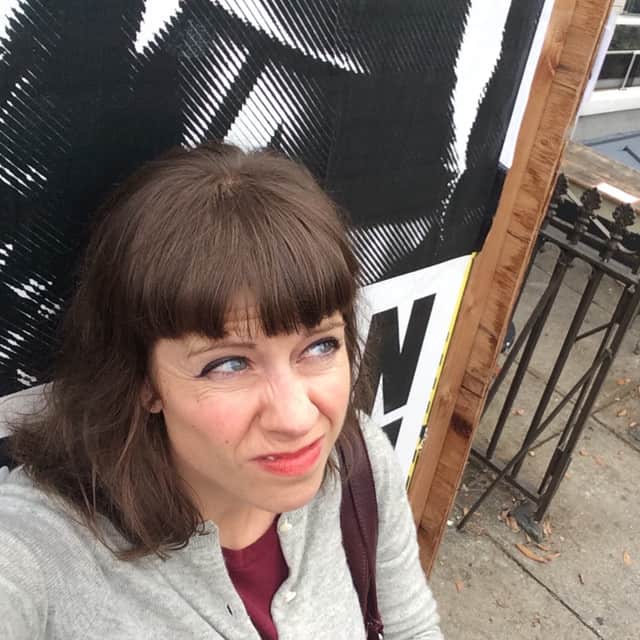 The next interview we have for you in our 'Beyond The Artist' is from Anna Bond, US label manager for Rough Trade Records. Anna has been in the music game since she was in her 20s and has worked for companies ranging from the legendary Fatcat Records to the ever-growing EMusic digital music club. We were very excited to pick her brain on a few industry topics and share them all with you!
Let's start at the beginning. Where do you work and what is your role?
I am the US label manager for Rough Trade Records.
How did you get into the music industry? What was your motivation behind wanting to work with music?
Getting my first job at a label was basically accidental – I had moved to NYC in my early 20s and was working at a bakery when I decided to look for a label internship, which pretty quickly turned into a job offer. I was obsessed with independent music early on – I booked my first show at age 14 – but had never considered the possibility of working in the industry. Once I started, though, I knew there was no going back.
What is your favorite aspect of your job? What has drawn you into always going back to working for labels?
It's pretty simple, really: I love working with creative people who care more than anything about the music they make, and helping them reach an audience.
When I was in high school, underground music had an immeasurable impact on my life in a small college town, in that it opened my eyes to a world beyond the social bullshit and closed-minded aesthetic ideas I was largely surrounded with. The music I discovered via the college radio station & the indie record store genuinely changed everything for me.
I have dedicated my career to helping people find music that opens their eyes and enables them to feel this way – and to help make sustainable careers possible for the musicians who are making this meaningful art. I've been involved in a lot of aspects of the industry, but to me, label management has been the position I'm suited for that gives me the closest connection to that mission.
How has the industry changed since you started working in it?
Oh, man. So much! Well, when I started at a label, the iTunes Store hadn't launched and the digital retailers that existed were tiny. CD was the format of the day – vinyl was still extremely niche, and demand too small to press it for most new releases – and you had to set your CD manufacturing quantities and ship goals based on what you thought you'd sell of a record in 16-20 weeks, because if someone came in to buy the CD and your local store didn't have it because you had undershipped or were out of stock, there was no alternative, like there is now via digital and streaming.
Even though Amazon existed and stores offered special orders, often you'd just lose the sale if the customer couldn't buy it in the moment. So how much stock and where you placed it was crucial to the success of a record, far more than today. Tower Records still existed, and they were a huge source of sales for independent music, as they had stores in cities too small to support a true independent shop.
This was before Youtube, at the very beginning of mp3 blogs, when sites like Pitchfork were just starting to get followers – so independent music was just coming into a lot of opportunities for promotion that hadn't previously existed, that would ultimately enable underground artists to "break through" without commercial radio or MTV coverage, which had for a long time been the primary way to reach a wide audience, and which were dominated by major label-supported acts.
On the other hand, there were so many great print music magazines that still existed at that time, most of which have since gone under or gone online-only – "clickbait" hadn't yet been invented to compete with in-depth music journalism, which thankfully is still being created. On the other other hand, back then sync licensing deals for independent artists, and that crucial source of income, were still relatively rare, and it was almost impossible to get an indie act booked on late-night TV; both of those areas of opportunity have broken open for independents.
While piracy and album leaks continue to be an issue, and there are certainly valid concerns about how musicians and labels can keep going in a streaming vs. a physical/digital album sale marketplace, on balance the internet has enabled artists to get their music to people who they would never have been able to reach via terrestrial radio, traditional print press, or the physical marketplace.
TL;DR: Everything is different! But the part where geniuses make amazing music is still happening – though they're more likely to be doing it on computers nowadays – so we're good.
Do you have any role models in the industry?
I have so many! My friend (and former boss at eMusic) Molly Neuman has long been a role model for me, and not just because we both went to culinary school but continued to work in music! She's been working in the interest of independent labels and artists for decades – from her years as the head of Lookout! Records, managing artists like Ted Leo, heading up the label relations department at eMusic, and now as the managing director of A2IM, the trade organization representing independent labels. Her compassion, drive, and ability to maintain a productive work-life balance are all hugely inspiring to me, and she has been a source of amazing advice and guidance over the years.
I could write paragraphs about all these folks, but then this would be novel-length, so I'll just mention some others who have also been important and inspiring over the years: Portia Sabin of Kill Rock Stars; Jeremy deVine of Temporary Residence; Caleb Braaten of Sacred Bones; Kris Chen of XL; Amy Dietz of INGrooves Fontana.
What is the most played vinyl in your collection and why?
I think we both know this is an insane question. But lately I've had Aretha Franklin Live in Paris, ZZ Top Tres Hombres, everything by Sharon Van Etten, and Lamchop How I Quit Smoking in regular rotation.
And for fun – what is your favorite album of 2014 so far? (If this is too hard – what was your favorite show that you went to this year?)
I think it's a tie between Sturgill Simpson's Metamodern Sounds in Country Music and Azealia Banks' Broke with Expensive Taste.
Bonus answer – my favorite shows were Teenage Fanclub at Pier 84, tied with all three times I saw Nick Cave this year!