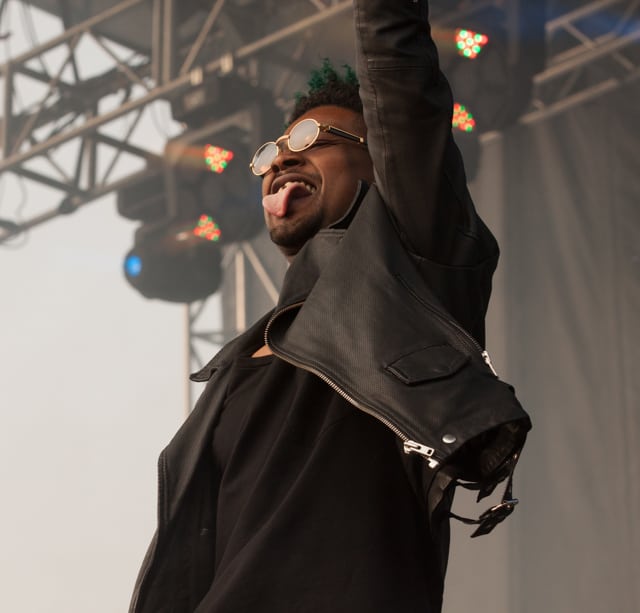 Pitchfork Festival proved to be Christmas in July for us. It was one sweet, wild ride of a weekend (that felt more like fifteen minutes) of beautiful music, warm Goose Island beers, and fantastical people watching (sunflower prints, septum piercings and candy-colored hair all in heavy rotation). It was the coolest kids of the moment (Kendrick Lamar, Perfect Pussy, Avey Tare) meets the alt beauty queen "it" girls (St. Vincent, Sharon Van Etten, Grimes) meets indie's enigmatic legends (Neutral Milk Hotel, Slowdive, Beck).
All photos by Charlie Shields.
July 18th: Day One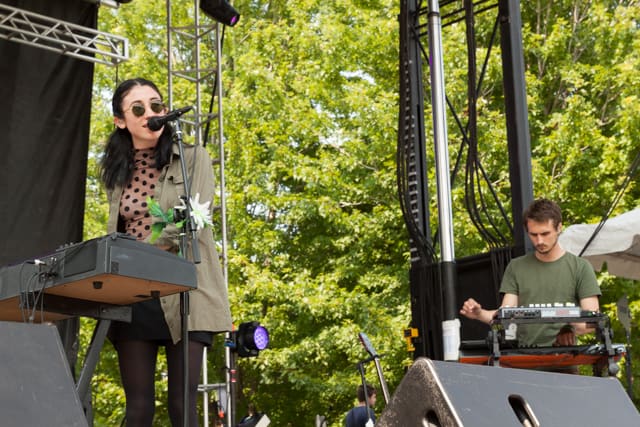 3:30 Hundred Waters
I wish you, I wish you, I wish you, I wish you could see what we saw. That Hundred Waters' "Murmurs" track is a sanctuary of sound in itself. The Gainsville quartet brought a splendid set of steady, haunting, emotionally-charged atmospheric tones to an otherwise unfortunate time slot. We spoke briefly with leadsinger Nicole Miglis post-show with cartoon hearts in our eyes. She was excited to check out The Haxan Cloak and to play at their very first festival.
Takeaway: So many feels for this band. Miglis has a rumbling, texturally-rich, jazz quality to her voice that made our shivers shiver.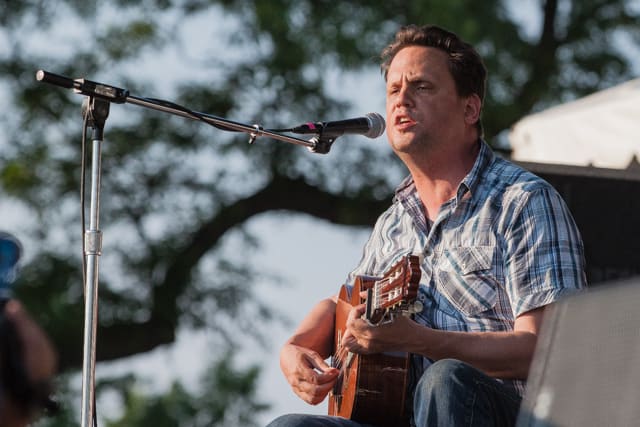 6:25 Sun Kil Moon
To be fair, you have to know what you're getting into with Mark Kozelek. He's unapologetically expressionless, and sat through the entire set in a resigned, mellow manner. Morbid, heavy moments are commonplace with Sun Kil Moon ("Carissa," the track about his second cousin's death by fire: Then she vanished up in flames like that but there had to be more to her life's worth / Everyone's grieving out of their minds making arrangements and taking drugs).
Takeaway: If you're in a good mental space, great. Sun Kil Moon's tunes are sad, painfully intimate, raw stream of consciousness confessions that both burn and shine.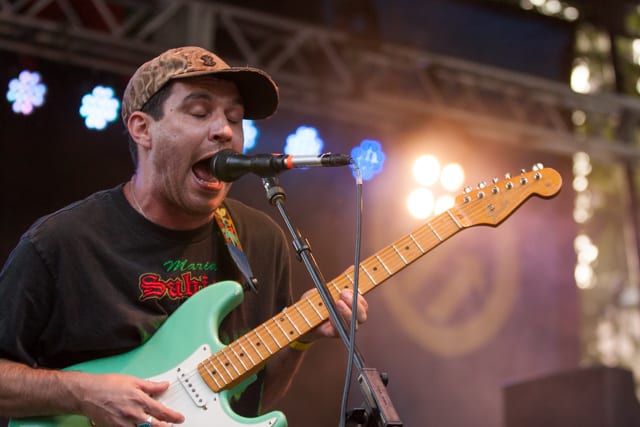 7:15 Avey Tare and Slasher Flicks
As often happens with great artists, experiencing live the vibes you have dedicated hours of ear-time to is both familiar and different. It's a transformational experience that compiles new, undiscovered nuances that reinvent the imaginings and associations you created in your little headphone microcosm. Such was Avey Tare and Slasher Flick's set. Often spasmodic, shock-abstract and peppered with screams. Avey lead us into all kinds of mad cognitive dissonance through disjointed messy rock and back again to a glowy pop-rock safe place. Sweet to see him give girlfriend and Slasher Flicks bandmate (Angel Deradoorian, formerly of Dirty Projectors) a happy birthday shoutout at beginning of the set.
Takeaway: after 15 years active in the genre, Avey Tare continues to lead the experimental indie scene.
7:20 Giorgio Moroder
The guy is 74. He did his best to hype up Donna Summer and Blondie hits. And you know what? It worked. The crowd snapped and clapped along with this Italian legend and kid-at-heart. Takeaway: Of course we secretly hoped for a surprise Daft Punk appearance. Ended up wishing this enthusiastic godfather of disco was our godfather of everyday life. Long live that mustache, Giorgio.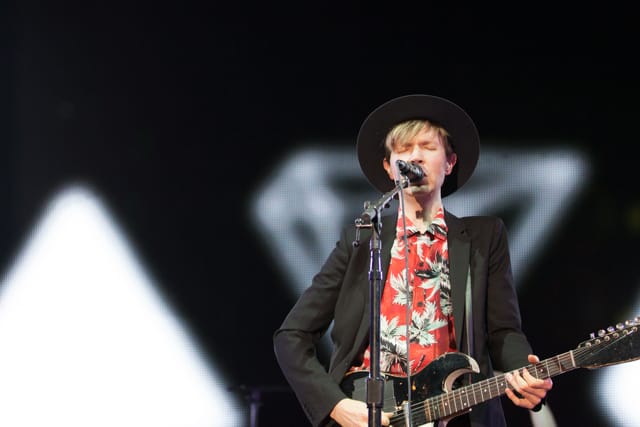 8:30 Beck
So there was heavy reliance on the hits (Devil's Haircut, Where It's At, Loser). So, there was a reliance on some pretty spectacular backlit stage design and Beck's frenetic dance moves (despite past undisclosed spinal injuries). So what. He killed it. The dude continues to be a Renaissance man in philosophy, spirit and art.
Takeaway: Odelay lives. Beck's still got it. Listen again to "Debra" from Midnight Vultures and tell us that's not Jimmy Fallon's schtick before Jimmy Fallon was doing his schtick. Was a huge Friday night crowd song fave.
July 19, Day Two: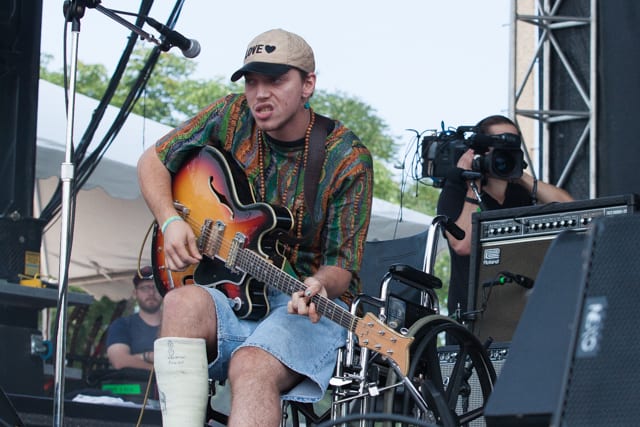 1:00 Twin Peaks
As life goes, sometimes stranger than fiction, musical kismet brought us together with some good pals of Twin Peaks, prior to the show. We invited them into our cab, after noticing that all too obvious eager-concertgoer look one has whilst desperately seeking transportation to the fest. They were high school buddies (it seemed like every other kid at Pitchfork was a friend of Twin Peaks).
They kicked off day two of the festival with the energy very early twenty-somethings are known for (Read: these boys are greener than green. They could not have been more excited to partake). Lead singer, Caiden James (James's dad attends every show), sat cross-legged with a cast on his right leg slung leisurely over his left as if asking for the rock gods to prove wrong that he couldn't rock even when disadvantaged.
Takeaway: This is a band to watch. Their shows will be fun, full of energy, and who doesn't love saying, 'I saw these guys before they released their first LP.' (Wild Onion out August 5th).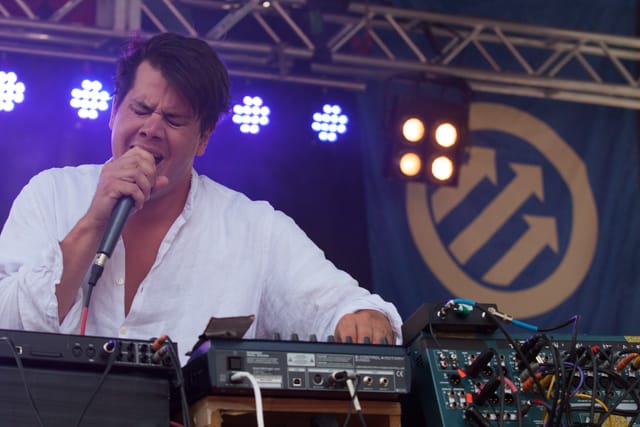 3:45 Mas Ysa
"I'm a Pitchfork intern," he began, "they agreed to let me try out my fancy karaoke equipment." A quip to an utterly opposite-feeling set. With expressions like he's getting wrenched in the back with a knife, Mas Ysa killed the crowd with an exuberant energy and of-the-moment sound. Chanting profound lines (or were they slightly cheesy?) like "the soul is a place" while barefoot two-stepping the ground below- he brought hands up and touched the deep places in us. Takeaway: Dude has sensational musical talent and timing as well as funny, awkward chops reminiscent of Mitch Hedburg: "This song is for my mom. If you buy my record, you get a picture of my mom….okay.") Mas Ysa was our wildcard fave performer of the fest.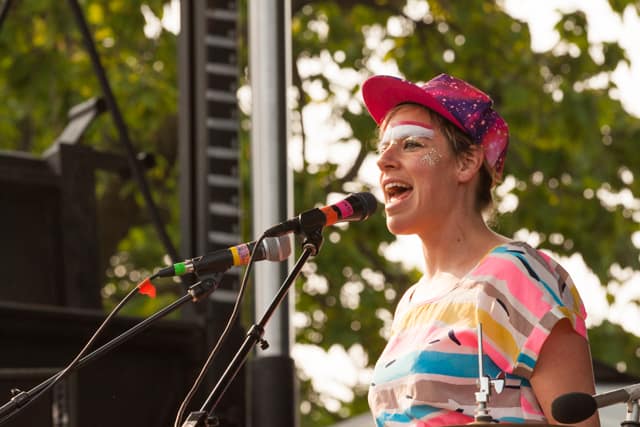 5:15 tUnE-yArDs
This colorful rainbow of a band didn't disappoint and had the crowd jumping, dancing, and getting kicked out of the pit. Cheers to authenticity and foraging down your own path.
Takeaway: Merrill is a Rainbow Brite-ish dreamweaver with ability to achieve a Pied Piper following with other likeminded unicorns.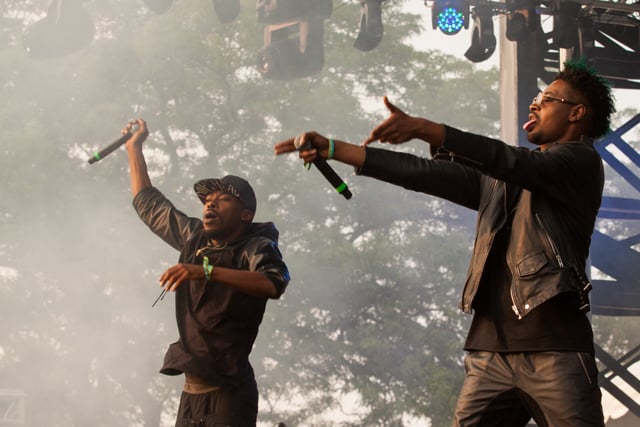 6:15 Danny Brown –
Oh, Danny. We had the good fortune to sit in an interview with a group of young teenagers and the man himself.
High School Student: "If you were to create a Ben & Jerry's flavor, what would it be?"
Danny Brown: "Oh dang that's a good question. …Probably, uh, like, vanilla with, uh uh, KIWI. I love kiwi and don't see it around all that often. I got this like, Filipino grandmother, and she's always eating kiwi."
HSS: "Just vanilla and kiwi?"
DB: Uh, maybe I'd put some caramel on it and call it "The Hybrid."
He was as sweet and polite to the kids as he was lewd and crazed, onstage. So which is which? Up until six months ago, Brown still lived with his parents. He favors sparkling water, almonds and fruit backstage. He adores Nas and puts his every breath of energy into performing. He's truly a one-of-a-kind, with so much depth and talent to give.
Takeaway: We like him crazy, we like him tame. Danny Brown knows what character he's playing.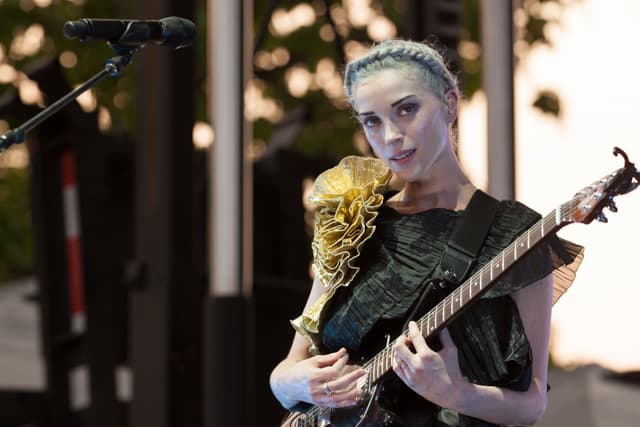 7:20 St. Vincent
Veritable rock goddess Annie Clark f*cking rocked it. A performance executed as technically well as theatrically and sonically- the pit couldn't get enough pictures. The crowd was left with indelible impressions of her silver-blossomed self. Clark's neatly choreographed act commanded attention to her detailed performance perfectionism.
Takeaway: Angularity is the name of Clark's game. She looked metallic and silvery, from different angles. From her jagged cheekbones to her structural black shirt with a protruding gold rose attached, she is a carefully designed, classy, and undeniable layered force of a musician.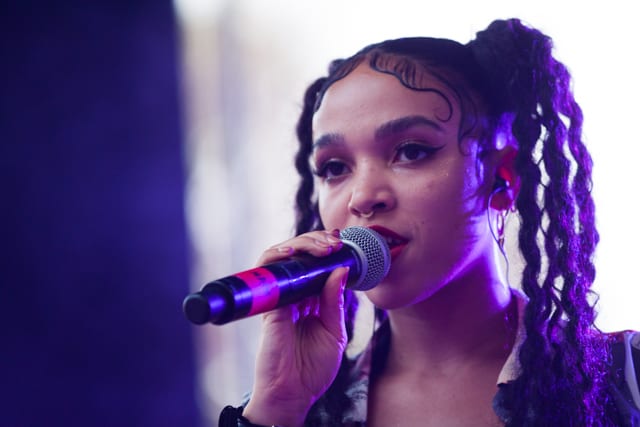 7:45 FKA Twigs
If it were possible to combine Left Eye, Chili, and T-Boz into a single being, and bring her up in London- the outcome would be FKA Twigs (Formerly Known As Twigs, for the way her joints crack). Soft, sensual, hushed bedroom vibes throughout each track during what felt like an eclipse of the Pitchfork moon, from this ethereal woman.
Takeaway: From Jessie J backup dancer to Sex Goddess of Festival – FKA Twigs had every man, woman and oak tree intrigued.
8:30 Neutral Milk Hotel
It seems intimidating to even speak or ruminate, about this set. So perhaps, we won't. Yes, it was an experience. Yes, it seemed to be a personal catch-and-release relationship happening between each individual in the crowd, and the band. Like the lack of photography during the show (no photography policy), and the screen that should've showed us the close-ups of Jeff Mangum and the guys (but was black and void of images)- this was a set that was left up to the audience to create, imagine and enjoy in whatever way they should choose.
Takeaway: Fan for life.
July 20, Day Three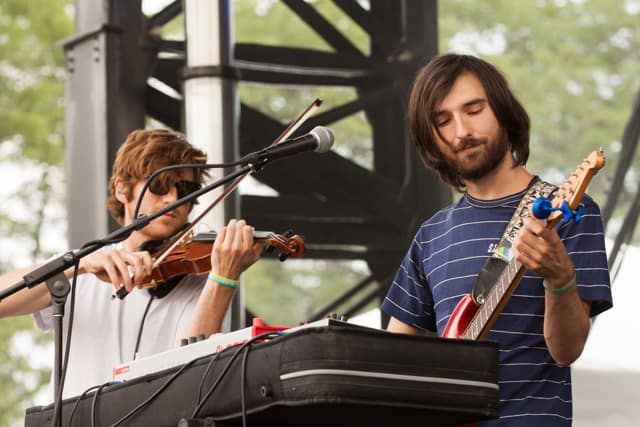 1:00 Mutual Benefit
"Hi. We're Neutral Milk Hotel" is lead singer Jordan Lee's first address to the crowd in his signature near-whisper. The 1:00pm Sunday show is often the sparsest. However unfortunate, the crowd's volume represents aspects of Mutual Benefit's sound. An intentional sparseness that is appreciated in an often too busy world that reminds us of the great swaths of farmland in his native Midwest. A reminder that music can and does bring peace, and perhaps reprieve for those that are sun-beaten and hungover. Mutual Benefit woos with simplicity, sincerity, and gentleness. Melancholic songs were broken up by one liners from Lee adding a bit of whimsy to otherwise meaningful, deep tapestries of sound.
Takeaway: It's perfect music if you're taking a road trip with your mom. And you stop for a picnic and eat the sandwiches only she can make. There's definitely lemonade involved, too.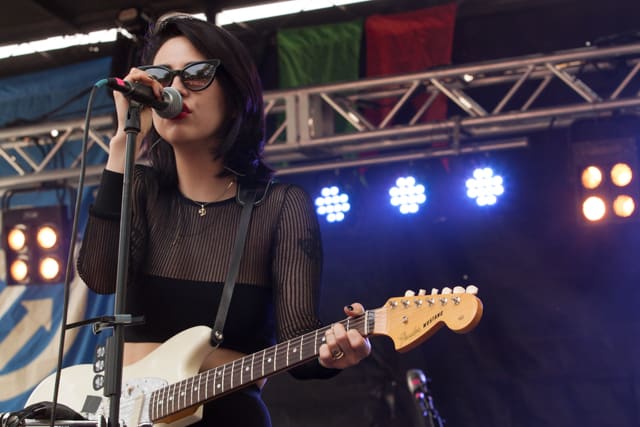 3:45 Dum Dum Girls
Punk sex embodied. The babes of Dum Dum Girls look anything but the negative colloquial connotation of their adjectival moniker on stage. All black everything with stark white makeup and blood-red lips, the Girls drove steady pop punk at perhaps the hottest point of the three days. They are the antithesis to excitement on stage. They are those goth girls you kinda knew in high school, and kinda were scared of, but now can quietly clap for in honor of their rise to being understood and celebrated for their dark angel ways. In our mind, they are the soundtrack to Eugenides' "Virgin Suicides" novel.
Takeaway: We talked with leadsinger Dee Dee prior to set and went in for a selfie with her. She was reserved and lovely and excited about their time at the fest. Also, she was completely ready with a rad signature selfie pose.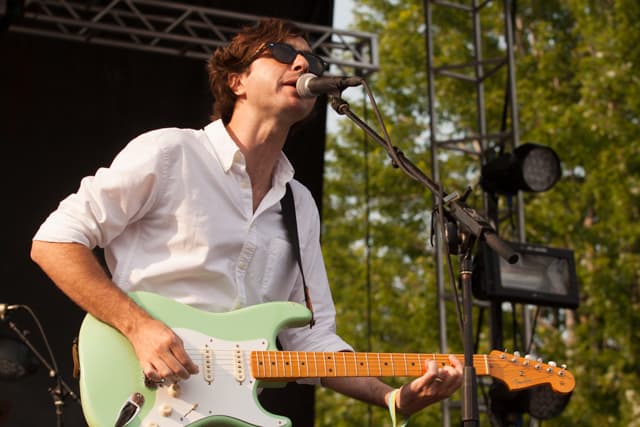 5:15 Real Estate
Could there be more perfect bands to see on balmy day outdoors in Chicago, at dusk? We don't think so. Though we needed to make exits to catch other bands, Real Estate's aural tractor beam held our feet to the ground while sending gentle sways up our bodies. The waning orange sun descended upon the Chicago skyline. At one point, we got stung by a bee but it was barely felt as hazy guitars and body bobs from the New Jersey-based quartet smoothed out the pain. That seventh Green Line Pale Ale might've helped, too.
Takeaway: They are masters of modern day surfy, beach-pop. They make it look easy, and sound easier. Sure we could power dunk like LeBron and play music that sounds as clean, clear and true as Real Estate, if we wanted to. Sure we could. (After the set, bass guitarist Alex Bleecker and girlfriend were spotted enthusiastically popping their heads into the media tent. We shouted, 'Great set, Alex!' to which he spritely responded, 'Thanks!' and bounced off hand in hand to catch Grimes).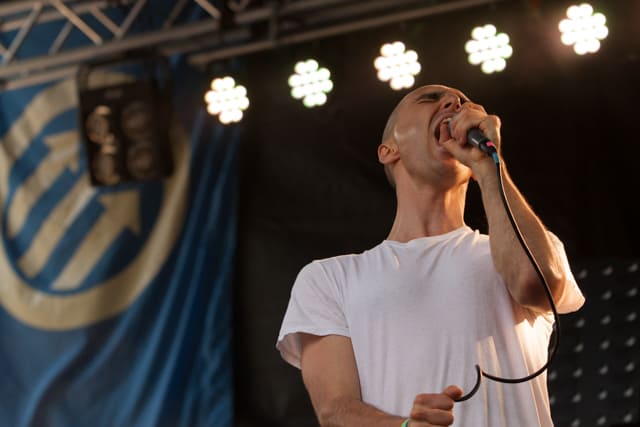 5:45 Majical Cloudz
You could say that the fact that Majical Cloudz's synthesizer broke between sound check and showtime was a problem, but it wasn't. The synth failure forced Devon Welsh to improvise for over half of the set. The results were:
1. A never before done on stage a capella version of "Bugs Don't Buzz"
2. A crowd member telling a joke
3. An amateur beat boxista dropping 15 seconds of beats
4. Devon Welsh performing a spoken word poetry sesh
5. Two chances to see Devon Welsh jump off a box onstage
Takeaway: sometimes failures lead to great opportunities (says the fortune cookie).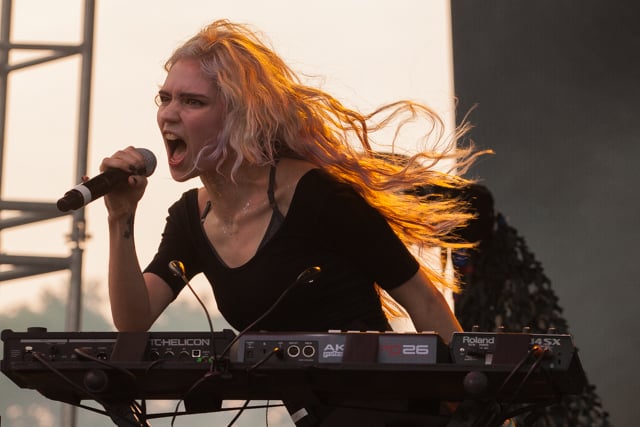 7:25 Grimes
We've been into Grimes's weirdo grave wave act for years. She is a minute creature with goth-electronic dance tunes that are so pretty and sweet, paired with her baby-voiced singing. When she's at her best, she's unscripted- strange, awkward, incapable of truly being categorized. In this way she's avant garde and fascinating to listen to, and view. Her Pitchfork set was was meant to be something of a spooky and free-spirited jam around (figuratively speaking) witch's cauldron- but came off as very prepared and very overly-choreographed.
Takeaway: This set was designed for the Katy Perry of Grimes' fans.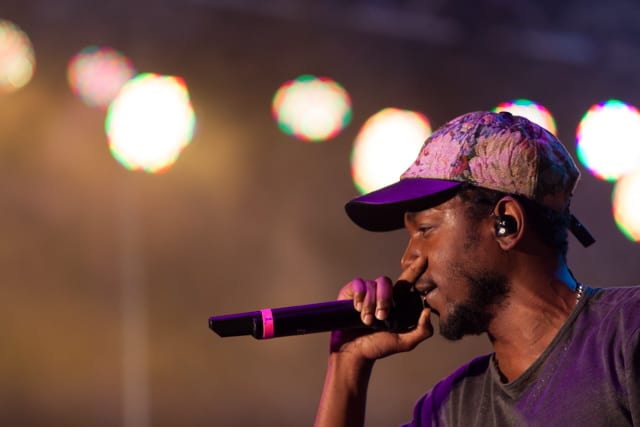 8:30 Kendrick Lamar
Like the last astrological sign – Pisces, containing a bit of all other signs – so too is the last act of a festival. A reminder of all the things before and that it is now truly time to go home 'till next Pitchfork. Kendrick Lamar's performance did not disappoint. Regardless of the artist, the final act is always special. It is ingrained in us to give it our all, and it also caps off an experience and much is expected of that artist.
Takeaway: Though our limbs and livers were tired and dirty, we still partook in tons of celebratory dancing (on the ground, aka backdancing) with several of our newly made best music festival friends, throughout the set. Yes it matters who you're with, but in this case- it also matters where you are, too. Lamar provided the high energy, happy closing that was ended a supremely successful P4K.
We came, we saw. We're tired as fuck and will be whiskey-dehydrated for at least a month. But as an Avey Tare crowdsurfer said after being manhandled out of the pit and back into the crazed crowd of sweaty, screaming, jumping fans bouncing off each other like atoms, when someone asked him, "Was it worth it?" Without pause he said "Yes, but I lost my whiskey." So did we crowdsurfer, so did we. But it was because we drank ours.