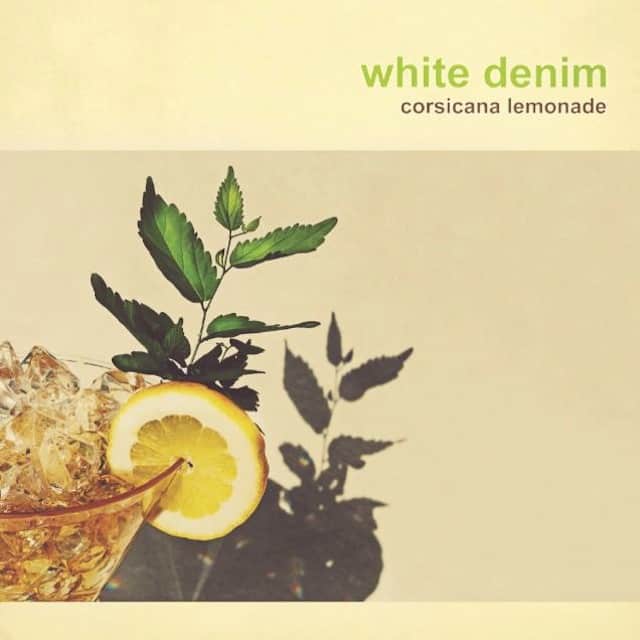 If I could level a complaint against Texas-based garage-rockers White Denim, it'd be that their recordings have rarely matched the high-voltage energy of their exuberant and fiery live shows. It's worth noting, as a mitigating factor, the fact that their live shows are amongst the best in contemporary rock 'n roll and it'd be hard for any band to live up to those standards. And, just to further clarify, their four prior records have been excellent – they just weren't quite as good as the live performance of that same material.
I'm sure I've not been alone in the belief that if the band could only bottle some of that lightning from their live gigs, they'd have no problem connecting with an even larger audience that they've known to date. Indeed, it was undoubtedly in recognition of that sentiment that frontman James Petralli was proud to report of Corsicana Lemonade, "It's taken five records to make one that sounds the way we do onstage."
And, for the most part, he's right. Indeed, the sizzling album opener "At Night In Dreams" and the snarling title-track are arguably the closest they've ever come to matching the intensity of their live shows. The opening number, for its part, is a swampy Southern rocker built from a pair of blistering guitar riffs propelled forward by a punchy rhythm section to accompany Petralli as he sings about the struggles of a couple that got married too soon, "Portrait of two in white in a church house made of glass, playing imaginary parts and they knew it from the start."
Still as often as not, this album will sound the way the band sounds onstage, in part because of the nature of the new material which lends itself better to the recording process. It's simply tighter and more melodically focused. For examples, the song "Let It Feel Good (My Eagles)" has a catchy hook and flowing melody that might have sounded out of place on some of the band's prior releases.
And, yes, on a gut level that's a scary proposition for a long time fan. After all, it was the pummeling, bluesy guitar solos that first caught my attention. Thankfully, the changes prove to be for the best. In fact, both freewheeling and engaging, Corsicana Lemonade proves to be the band's strongest release to date. It's certain to win them a host of dedicated new fans.
As far as beverages go, Corsicana Lemonade is more like a strong cup of coffee than a glass of lemonade. That's to say, it's an album that'll get you moving in the morning. Thick but beautifully textured with bright tones and and an underlying sweetness, it makes a great Musical Pairing for Kasey's recipe for Steel Cut Oats with Peanut Butter, Honey and Cinnamon.
Stop by the Kitchen to shake up your mornings with Kasey's recipe for Steel Cut Oats with Peanut Butter, Honey and Cinnamon. Afterwards, you can snag a copy of the limited-edition yellow vinyl copy of Corsicana Lemonade from Insound.