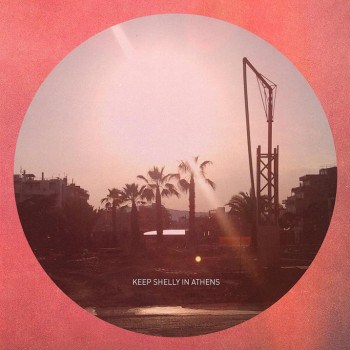 The roasted cornish game hens recipe featured today in the Kitchen is a delicious recipe that uses simple, clean ingredients to craft a dish that tastes wonderfully "different" and yet still somewhat familiar.  Part of what makes it stand out is the use of healthy amounts of Sumac – a spice that has been commonly used in Greek cooking since it came to Greece from the Middle East.  As a result, it pairs well with the In Love With Dusk LP by Greek duo Keep Shelly in Athens, who craft an evanescent and velvety sort of downtempo electronica that is similarly "different" and yet familiar.  Indeed, the similarities between Air's Moon Safari and the tracks "Running Out of You" and "Fokionos Negri Street" have been widely noted, and not without good reason.  However, that isn't to say that Keep Shelly in Athens are mimic-ing Air.  John Bush wrote in his review of Air for Allmusic: "while Air had certainly bought records and gear based on the artists that had influenced them, they didn't just regurgitate (or sample) them; they learned from them, digesting their lessons in a way that gave them new paths to follow."  The same could be said for Keep Shelly in Athens. But still, I can't resist examining this album from my personal experiences with Air's debut LP. I remember picking up my first copy of Moon Safari while on a trip to London as a teenager.  I wasn't familiar with the album, hadn't heard the band before, and wasn't sure what to expect. First listen: it sounded amazing. I nearly played "Kelly Watch The Stars" and "Sexy Boy" on repeat for several days while wandering through London. And listening to In Love With Dusk certainly calls to mind those memories. In fact, perhaps strangely, at this point in my life, listening to In Love With Dusk calls to mind those great memories far better than actually listening to Moon Safari does.  Moon Safari is 13 years old, and after spending 13 years with the record, it doesn't sound nearly as contemporary as it once did.  Keep Shelly in Athens definitely sounds contemporary.  Funneling the resurgence of music with chilled-out vibes into a clean, stately, urban brand of electronica – Keep Shelly in Athens take the lessons they learned from their peers and the artists that have influenced (including Air) them to forge their own path while retaining the essence of what made their influences great in the first place. The results are fantastic. The vinyl is long sold-out, but you can download the record from iTunes.
Keep Shelly In Athens – Running Out of You
Don't forget to "heart" our songs on hypem if you like what you hear!  Head to our Kitchen to read the recipe for the cornish game hens with sumac and ginger.