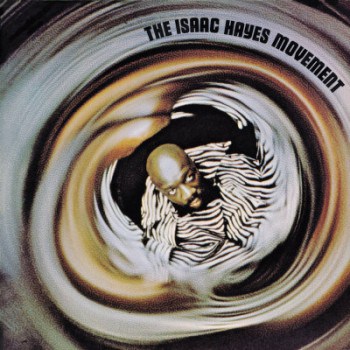 Kasey has prepared a romantic, Valentine's Day inspired post over in the Kitchen to get your creative juices flowing in case you are looking for some V-day inspiration (even if you are just planning on pampering yourself – after all, there are no rules – Valentine's Day can be all about doing you right). So yeah, her recipe is decadent: a chocolate cake with whiskey cream, and it will definitely get you feeling lovey and satisfied. And if you are reading this blog, there is a slightly better than average chance that you are also thinking: "Yes, but what music would pair well with this recipe!?!"  Luckily for you (whether you were wondering that or not) I've found the perfect album to pair with it: Isaac Hayes' 1970 classic The Isaac Hayes Movement. Smooth. Sensual. Soul. Damn right, this is the album you want to listen to when romancing your baby (or yourself).
But I don't want to give you the wrong idea, this isn't only lovin' time music. Hayes' production, arrangements and compositions are definitely complex and intriguing enough to satisfy your music loving heart whether you are cuddling on the couch with your special someone or  just chillin' by yourself. The album is a 70's soul masterpiece, and the facts that the album doesn't contain a single original song and is only 4 tracks long, doesn't at all detract from the impressiveness of the work. Indeed, Hayes is hardly celebrated for his ability as a songwriter. Instead, Hayes is recognized (for reasons that become very apparent while listening to either The Isaac Hayes Movement or Hot Buttered Soul) for his skills as a composer, producer and arranger. His covers, which frequently extend beyond the 10 minute mark, owe only a slight resemblance to their original source material. Instead, he uses the familiarity of the borrowed material to showcase his own thoughtful and creative perspective in re-contextualizing their melodies. His nearly 12 minute-long cover of the Beatles' "Something" is a perfect example.  It opens with a delicate piano melody before it begins to reach bloom with a booming brass section and a sensual violin tune, frequently reverting between the simple, piano-based opening melody and the more fully-extended instrumental arrangement.  In fact, it isn't until nearly 2 and a half minutes long before Hayes' vocals even appear in the recording (although it hardly feels that long). As it continues, the wandering, languid melody ebbs and flows before soaring to a clattering, lively crescendo. Similarly, his eleven and a half minute long cover of Jerry Butler's "I Stand Accused" begins with an emotional, five-minute long spoken intro depicting an anguished, lovelorn soul who lusts for his best-friend's girl.  Amazingly, despite the length, the intro never feels self-indulgent.
If you need further evidence of the exquisite distinctiveness of Hayes' production and arrangement, just consider how frequently his work has been sampled by everyone from Portishead, Tricky, Wu Tang Clan and Public Enemy. Just for fun, I included MP3s of the Portishead and Tricky tracks which sample Hayes' "Ike's Rap III" which appeared on his album Black Moses.  It is worth considering how much those tracks succeed largely because of the slinky, sexy mood that they chose to borrow from Hayes. I think Hayes' himself must be proud considering the fact that these artists' reinvention was no less inspired than his own.
Isaac Hayes – Something (the Beatles Cover)
Portishead – Glory Box
Tricky – Hell Is Around The Corner
Don't forget to "heart" our songs on hypem if you like what you hear!  Then head to the Kitchen to read Kasey's recipe for chocolate cake with whiskey cream.