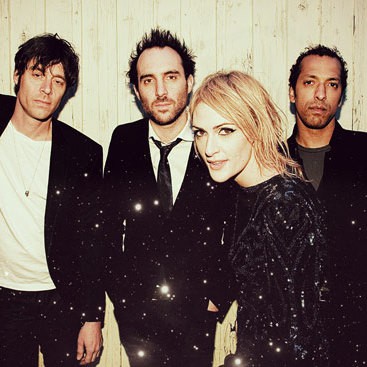 Remixes are tricky business.  A good remix needs to sound different enough from the original to justify its own existence, but also needs to do honor to the original by not sucking.  When done right, a good remix actually can contribute to your enjoyment of the original song.
Perhaps inspired by the difficulty inherent in finding a good remix, Metric is presently hosting a remix contest with a $1,000 cash prize for the the top remix of each of the tracks on their latest album, Fantasies.  They've released the stems from each track, and will personally select the winners.  The playing field is literally littered with lousy trance, house, and drum & bass remixes, but nonetheless, there are some definite highlights out there.  There is even a very unique death-metal cover of "Gimme Sympathy."  Personally, I'm kinda hoping that folks like Memory Tapes, Teen Daze, Blackbird Blackbird, and Closed Cassette will enter the field too.  I can't be the only one who thinks that those folks could have a field day creating chilled-out cuts based around Emily Haines' vocals.  Anyways, until that happens, I've selected a few of my favorites below:
Metric – Satellite Mind (Ryan Herve Remix)
Metric – Twilight Galaxy (JTM Reverse Psy-Polyphony Remix)
Metric – Gold Gun Girls (Betatraxx Remix)
Don't forget to "heart" our songs on hypem if you like what you hear! Then follow the link above to vote on your favorites.