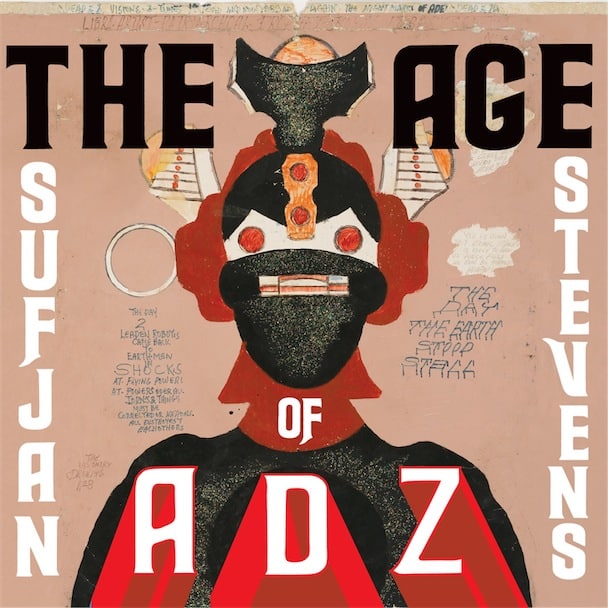 Kasey and I rarely back-away from recipes that feature hearty, complex flavors.  In fact, many of my favorite recipes are luscious, earthy and rich.  Kasey's truffled gnocchi with chanterelle mushrooms is a great example of this.  It is a smooth, lush recipe with big flavors.  And it pairs well with Sufjan Stevens' latest epic – The Age of Adz.  At one of his recent performances in Oakland, Stevens noted that The Age of Adz was an album about process.  Previously celebrated primarily as an exceptional songwriter, for his latest work, Stevens abandoned his familiar tools, opting for a less structured form of craftsmanship that focused on development through sonic exploration and process-driven production.  As a result, The Age of Adz is an artisanly blended hodge-podge of coarsely chopped IDM, Kid A-esque electronica, gospel, and folk that alluringly sparkles, bleeps, bloops, organically resonates, and hums in equal measures.
In addition to focusing on new methods of song development, Stevens also chose to no longer drink from the well of his prior inspiration.  And instead of focusing on story-based songwriting using the history of individual U.S. states as a creative springboard, Stevens drew inspiration for this album from the art and life of the reclusive American artist Royal Robertson (a.k.a. Prophet Royal).  Royal was schizophrenic and delusional and suffered from disturbing visions of UFO's and celestial beings.  His visions led him to believe that his wife was unfaithful and that his children were not his own.  As a result, he pushed them away and lived in isolation until his death.  Stevens, who had struggled with an unidentified affliction during the creation of the album, clearly identified with Prophet Royal's suffering as demonstrated by the lyrical and musical content of the album which create a sense of a violent struggle to overcome personal adversity.  As a result, one suspects that although it is Stevens' least direct and straight-forward album (lyrically that is), it is also may be his most intensely personal effort to date.  For example, Stevens mentioned that "Vesuvius" was about Stevens' own personal struggles that brought him to an edge of a metaphorical volcano pondering the possibility of jumping in (death).  The results of Steven's exploration are spectacular, and the album is one of the year's most intriguing and scintillating releases – faltering only (in my opinion) during the listless and unengaging "Now That I'm Older" – a track that always manages to lose my attention.  Otherwise, each track is lush, full, textured, and sonically rich.  Buy it from Amazon on 2xLP or CD.
Sufjan Stevens – Too Much (Short Version)
Sufjan Stevens – I Walked
Head back to the Kitchen for the recipe for truffled gnocchi with chanterelle mushrooms.