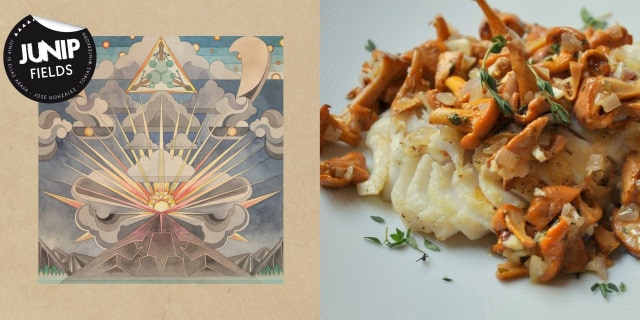 It's Fall, and so it is a great time to start unveiling some great autumnal recipes on eating/sf, and this pan-seared cod with chanterelle mushrooms is a great example of a simple, but flavorful meal that you will leave you full and satisfied on a cool September/October evening.  I've selected the debut album Fields by Jose Gonzalez's new band, Junip, for this pairing.  It is autumnal and pensive; an album filled with woodsy, warm instrumentation including subtle spacey keys forming memorable melodies.  It is perfect listening for an evening spent wrapped up in a wool blanket on a cool night with a glass of red wine or a tumbler of scotch following a filling meal.
As with Gonzalez's solo work, Fields is an album carved out from good songwriting intricately detailed with sparse instrumentation and subtle flourishes.  But the addition of drummer Elias Araya and keys-player Tobias Winterkorn adds greater color to the palette that Gonzalez used to color his work as a solo artist.  For example, Winterkorn's vintage-spacey keys add beautiful nuance to the melodies of "Always," "Rope & Summit," and "Don't Let It Pass".  Araya adds very welcomed punchy percussion to the mix on virtually every track.  And, of course, Gonzalez's warm vocals and excellent lyrics are in top form including cuts that feature lyrics that contrast religious belief against morality ("Howl") and more ambiguous lyrics that are nonetheless meaningful and poetic ("Sweet & Bitter" as one example).  Many of the tracks unfurl from gentle, simple melodies into grand, fluttering statements, and this is especially true on the breathtaking album closer "Tide."  Definitely a highly recommended release.  If you order the vinyl copy from Insound you get a free EP included with your purchase while supplies last.
Head back to eating/sf to read the recipe for this warming recipe.