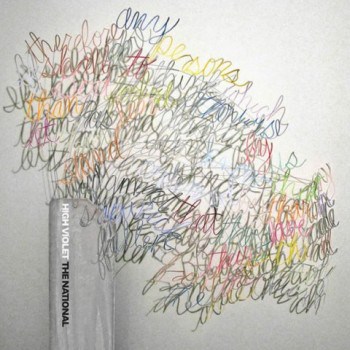 Kasey's phyllo-wrapped tilapia recipe is an amazingly delicious recipe.  Brittle, paper thin sheets of phyllo envelop a buttered, herbed tilapia fillet that is moist and flavorful.  As a whole, the dish is beautifully textured, well balanced and full satisfying.  Thus, it is the perfect pairing for my favorite album so far from 2010: the National's High Violet.  High Violet is hauntingly beautiful, intricately orchestrated, and emotionally connective.  Like The National's other albums, it will require an initial investment for most listeners, but rewards that effort with songwriting that soaring and evocative and lyrics that genuinely hit home.  It features some of the bands' best work to date including "Terrible Love," "Anyone's Ghost," "Afraid of Everyone," and "Bloodbuzz Ohio."  It gets my vote for the best album so far this year.  (Update: Subsequently this was selected as TK's Top Album of 2010)
High Violet isn't a ground-breaking album for the National in that it doesn't really see them exploring a new direction or any form of shift in scope.  It does, however, represent The National honing all of the qualities that made their prior albums particularly memorable and note worthy.  And while the peaks are arguably slightly less high when compared to Boxer, for example – High Violet is the more consistently rewarding album.  Lead singer Matt Berninger's lyrics remain witty, self-deprecating, full of doubt, and seeped in those painful, dark corners of love that suit his deep baritone so well.  Indeed, the songs on High Violet definitely connect with most listeners on an emotional level.  The songwriting is intricate, detailed and thorough.  Melodies surge like dark underground rivers that rapidly gain speed as they flow downhill.  And although Sufjan Stevens guests on the track "Afraid of Everyone" and Bon Iver's Justin Vernon's backing vocals appear on the tune "Terrible Love," the stars of the album, both vocally and instrumentally, remain The National themselves.  You can stop by the High Violet website (link above) to find an independent record store to pick up the limited edition, individually numbered, deluxe edition of the album on violet-colored vinyl, or just stop by Insound to buy the regular edition.
The National – Afraid of Everyone
The National – Bloodbuzz Ohio
Head back to the Kitchen to read Kasey's recipe for phyllo wrapped tilapia.