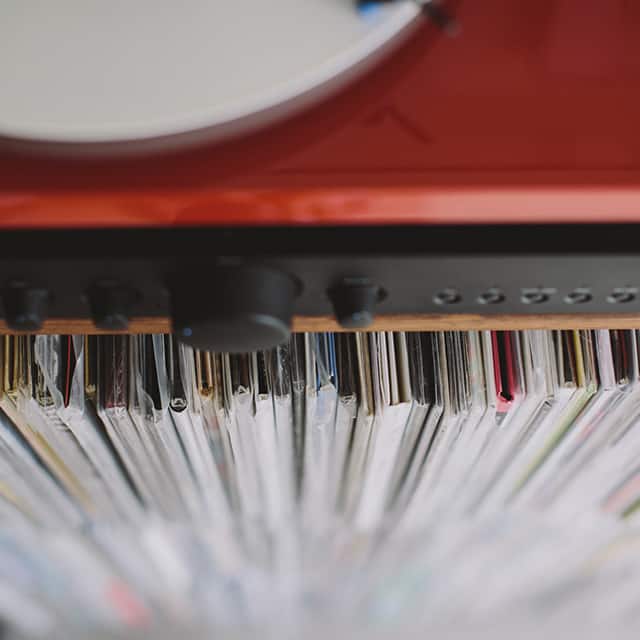 01. Gramovox's Floating Record™ Vertical Turntable ($399)
It's safe to say this might be the coolest new toy for music nerds of all stripes this year. It's a beautiful turntable with built-in full range speakers that's ready to play right out of the box. Oh, and it just happens to spin your records vertically so you can appreciate those fancy colored vinyl records you've been collecting. Select a walnut or maple finish.
02. Curated Coffee and Music Pairings ($25 a month)
Artisan coffee and exclusive, limited edition vinyl records delivered straight to your door courtesy of Turntable Kitchen and Sightglass Coffee. What could be better? Available as 1-month, 3-month, and 6-month gift orders. Order a subscription for the coffee and vinyl aficionado in your life by clicking here.
03. Neko Case – Truckdriver Gadiator Mule (8xLP boxset)($200)
The complete solo works of Neko Case on vinyl with a beautiful art book, vinyl slipmat, and digital download. Many of these albums are otherwise long out of print. This collection ranks high on our wish list. You can order it here.
04. Hunger Makes Me A Modern Girl: A Memoir by Carrie Brownstein ($17)
This captivating memoir by Sleater Kinney's Carrie Brownstein is a great read for any music fan. You can find it here.
05. Sennheiser IE80 Earbuds ($349)
We're never far from our pair of Sennheiser IE80 earbuds. After testing countless competitors, these have proven to be our favorite earbuds for high quality sound reproduction on-the-go. Get them here.
06. Pro-Ject Carbon Turntable ($399)
The Pro-Ject Carbon is sleek, sexy, and offers exceptional sound reproduction. It continues to be one of the most highly recommended entry-level turntables for music lovers who want to build an audiophile system. Get one in your favorite color.
07. PSB M4U 1 Headphones ($249)
These are our favorite over-ear headphones on the market. Beautiful bass response with clear sounding music reproduction. These are the headphones I use for reviewing albums and I highly recommend them. You can get a pair here.
08. Wooden Record Dividers by Kate Koeppel ($150)
Beautiful and stylish, these beautiful wooden record dividers are the perfect way to organize your growing vinyl collection. You can pick up a set here.
09. Ghostly Distressed Logo Tea Cups ($20)
Home to Tycho, Shigeto, Matthew Dear and more, Ghostly International is one of our favorite record labels – and these tea cups are a stylish pickup for any like minded music lovers. Get them here.
10. Cookie + Vinyl Pairings ($25)
Not Without Salt's Salted Chocolate Chip Cookie mix plus some sweet, sweet vinyl from yours truly. Just make sure you're nearby when the recipient bakes a batch of these cookies. Order them from the TK Market here.
Photo by Rachelle Derouin.