Musical Pairings: Arcade Fire – The Suburbs (paired w/ chicken and scallion dumplings)
August 24th, 2010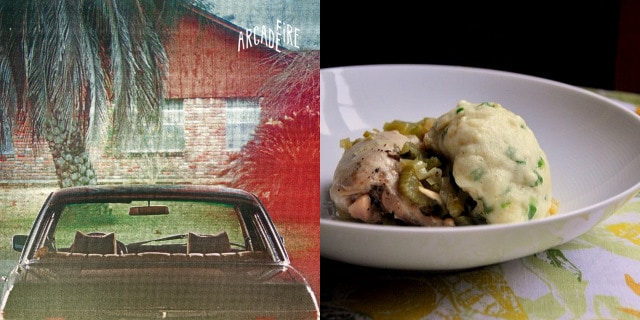 I tend to associate certain foods with certain places.  For example, I associate chicken and dumplings with the suburbs.  This may be because it is one of those recipes that my mom used to make for me as a kid back in good-old suburban Beavercreek, Ohio; just as I suspect countless moms have made the recipe for their kids in suburbs all across the country.  But just because it is from the 'burbs, doesn't mean it is boring and beyond a little culinary jazzing-up.  In fact, the chicken and scallion dumplings recipe that Kasey is featuring today is definitely a little more "culinary-sheik" than your average chicken and dumplings recipe.  Nonetheless, it still retains the heart and soul of the recipe many of us know and love.  And so I chose Arcade Fire's latest album, The Suburbs, as my pairing for this recipe, which, according to Arcade Fire frontman Win Butler, "is neither a love letter to, nor an indictment of, the suburbs – it's a letter from the suburbs."
So I feel like I should start out by mentioning that I approached The Suburbs with more than a healthy amount of skepticism.  I almost expected to not like it.  You see, I loved their first album, Funeral.  In fact, it would hardly surprise me if the grooves on my copy have been worn thin from the repeated listens.  But I was relatively disappointed by the follow up, Neon Bible, which I felt was over-hyped and overrated (a solid record to be sure – but hardly the masterpiece some critics made it out to be).  So what about The Suburbs – does it live up to the overwhelmingly positive reviews?  Thankfully, for the most part, it does.  And maybe it is because the band decided to change things up a little bit this time around.  For example, many of the songs are relatively stripped down and subdued compared to their earlier works including the jangly album opener "The Suburbs," the catchy and straightforward "Modern Man," and the beautifully understated Neil Young-esque "Suburban War."  It is the sound of Arcade Fire adapting their sound to the idea that sometimes – just sometimes – less is more.  But that isn't to say Win, Regina & Co. left those "big boom" moments behind them: "Rococo" is deceptively intricate featuring shimmering background ambiance alongside acoustic strumming before swelling into a fully orchestral melody.  Other tracks like "Ready to Start" and "Month of May" are fuzzy, big electric rockers that call to mind Nebraska-era Bruce Springsteen.  And "Sprawl II (Mountains Beyond Mountains)", one of the albums biggest surprises, unexpectedly calls to mind bands like Depeche Mode and New Order.  So I'm not willing to go as far as to call this a masterpiece yet.  But, and this is coming from a skeptic, it is a fully satisfying and heavily engaging album by a band whose reputation and hype create expectations that are nearly impossible to live up to.  And yet, somehow they managed to meet those expectations.  Buy a copy directly from the band.
Arcade Fire – Sprawl II (Mountains Beyond Mountains)
Head back to eating/sf to read Kasey's recipe for chicken and scallion dumplings.